Trividhakukshiya Vimana
Jump to navigation
Jump to search

Vimana Sthana Chapter 2. Three parts of abdomen and principles of diet
Trividhakukshiya Vimana

| | |
| --- | --- |
| Section/Chapter | Vimana Sthana Chapter 2 |
| Preceding Chapter | Rasa Vimana |
| Succeeding Chapter | Janapadodhvansaniya Vimana |
| Other Sections | Sutra Sthana, Nidana Sthana, Sharira Sthana, Indriya Sthana, Chikitsa Sthana, Kalpa Sthana, Siddhi Sthana |
| Translator | Tripathi J.S. |
| Authors-vidhi vimarsha | Mali V., Mali P. |
| Reviewer | Panja A., Basisht G. |
| Editors | Deole Y.S., Basisht G., Khandel S.K., Bhagwat M. |
| Year of publication | 2020 |
| Publisher | Charak Samhita Research, Training and Skill Development Centre |
| DOI | 10.47468/CSNE.2020.e01.s03.003 |
Abstract
This chapter describes the principles of food and dietary intake for healthy living with special emphasis on the quantum of food ingested. It is advised that one must eat in accordance with the capacity of one's stomach and the quantity of food is determined by the strength of one's digestion capacity (agni). Ayurveda regards ama, or undigested food, as the cause of vitiation of dosha and consequently various disorders. Proper quantity of food is digested in time without disturbing one's health. Diet taken with proper consideration of agni positively promotes one's strength, complexion, health and life, while improper quantity (amatra) of food - less (heena) or excess (adhika) - leads to various disorders. The chapter mentions various aspects of satiety and its physioloigcal mechanisms.
Keywords: Kukshi, capacity of stomach, digestion, quantity of food, diet, poor digestion, ama, visuchika, alasaka, satiety, indigestion, non infectious gastroenteritis, sluggish bowel.
Introduction
Diet plays a vital role in maintenance of good health and in the prevention and cure of the disease. It is also important to be aware that healthy and wholesome diet, plays crucial role in the growth and development of the body, varies from person to person. Food that someone is accustomed to or is suitable for (satmya) may be unwholesome (asatmya) to another. Thus one should observe the dietetic rules to plan one's dietary regimen to ensure proper digestion and assimilation of food, resulting in better health.
Food taken in excessive quantities aggravates all dosha and produces symptoms characteristic of each of the vitiated dosha separately. In addition to the quantity of food, untimely intake and the quality of food, i.e., intake of heavy, unctuous, cold, unclean and mutually contradictory food are responsible for the formation and vitiation of ama. Wholesome food, even if taken in proper quantity does not get properly digested if the individual is afflicted with anxiety, fear, grief, envy, anger, greed etc. and other such negative emotional states. These causative factors lead to formation of ama.
Ama is the undigested food material which remains inside body and produces toxic effects. The clinical presentation of ama has two variations-visuchika (non infectious gastroenteritis) and alasaka(sluggish bowels) - with primarily gastrointestinal and few systemic features. The line of management of ama includes emesis, fomentation, use of suppositories, and fasting followed by the use of deepana and pachana class of drugs. The patients should be given massage, asthapana and anuvasana types of basti and also oleation therapy after the patient is free from ama, helping restore the patient's lost strength.
Sanskrit Text, Transliteration and English Translation
अथातस्त्रिविधकुक्षीयं विमानं व्याख्यास्यामः||१||
इति ह स्माह भगवानात्रेयः||२||
athātastrividhakukṣīyaṁ vimānaṁ vyākhyāsyāmaḥ||1||
iti ha smāha bhagavānātrēyaḥ||2||
AthAtastrividhakukShIya vimAnaM vyAkhyAsyAmaH||1||
itihasmAha bhagavAnAtreyaH||2||
Now we shall expound the chapter "Trividhakukshiya Vimana"(Three parts of abdomen and principles of diet). Thus said Lord Atreya. [1-2]
Three divisions of stomach
त्रिविधं कुक्षौ स्थापयेदवकाशांशमाहारस्याहारमुपयुञ्जानः;
तद्यथा- एकमवकाशांशं मूर्तानामाहारविकाराणाम्,
एकं द्रवाणाम्,
एकं पुनर्वातपित्तश्लेष्मणाम्;
एतावतीं ह्याहारमात्रामुपयुञ्जानो नामात्राहारजं किञ्चिदशुभं प्राप्नोति||३||
trividhaṁ kukṣau sthāpayēdavakāśāṁśamāhārasyāhāramupayuñjānaḥ; tadyathā- ēkamavakāśāṁśaṁmūrtānāmāhāravikārāṇām, ēkaṁ dravāṇām, ēkaṁ punarvātapittaślēṣmaṇām; ētāvatīṁhyāhāramātrāmupayuñjānō nāmātrāhārajaṁ kiñcidaśubhaṁ prāpnōti||3||
Trividham kukShau sthApayedavakAshAMshamAhArasyAhAramupa- yu~jjAnaH; tadyathA- ekamavakAshAMshaM mUrtAnAmAhAravikArANAm, ekaM dravANAm, ekaM punarvAtapittashleShmaNAm; etAvatIM hyAhAramAtrAmupayu~jjAno nAmAtrAhArajaM ki~jcidashubhaM prApnoti||3||
The consumer of the food should divide the total capacity of his stomach into three parts – a third of the portion of the space should be allocated to solid food articles, a third to liquid food substances and the remaining third should be left for the (movement of) vata, pitta and kapha. One who keeps this basic thumb-rule during dietary intake, does not get affected by any adverse effect arising out of improper quantity of diet. [3]
Importance of eight factors in beneficial effect of food
न च केवलं मात्रावत्त्वादेवाहारस्य कृत्स्नमाहारफलसौष्ठवमवाप्तुं शक्यं, प्रकृत्यादीनामष्टानामाहारविधिविशेषायतनानां प्रविभक्तफलत्वात्||४||
na ca kēvalaṁ mātrāvattvādēvāhārasya kr̥tsnamāhāraphalasauṣṭhavamavāptuṁ śakyaṁ,prakr̥tyādīnāmaṣṭānāmāhāravidhiviśēṣāyatanānāṁ pravibhaktaphalatvāt||4||
Na ca kevalaM mAtrAvattvAdevAhArasya kRutsnamAhAraphalasau ShThavamavAptuMshakyaM, prakRutyAdInAmaShTAnAmAhAravidhi- visheShAyatanAnAM pravibhaktaphalatvAt ||4||
It is not possible to derive all the beneficial effects of any diet only on the basis of the quantity of food consumed because the other seven factors (discussed in the preceding chapter, such as prakriti (nature of food) etc.) have their own individual role to play.[4]
Focus on qunatum of food
तत्रायं तावदाहारराशिमधिकृत्य मात्रामात्राफलविनिश्चयार्थः प्रकृतः| एतावानेव ह्याहारराशिविधिविकल्पो यावन्मात्रावत्त्वममात्रावत्त्वं च||५||
tatrāyaṁ tāvadāhārarāśimadhikr̥tya mātrāmātrāphalaviniścayārthaḥ prakr̥taḥ| ētāvānēva hyāhārarāśividhivikalpō yāvanmātrāvattvamamātrāvattvaṁ ca||5||
tatrAyaM tAvadAhArarAshimadhikRutya mAtrAmAtrAphalavinishcayArthaH prakRutaH| etAvAneva hyAhArarAshividhivikalpo yAvanmAtrAvattvamamAtrAvattvaM ca||5||
However, the focus of this chapter is only to analyze the effect of the quantum of food (rashi) ingested, with the objective of determining appropriate and inappropriate quantities. This is the only consideration to decide how much is the proper and improper quantity of food. [5]
Features after consuming proper quantity of food
तत्र मात्रावत्त्वं पूर्वमुद्दिष्टं कुक्ष्यंशविभागेन, तद्भूयो विस्तरेणानुव्याख्यास्यामः|
तद्यथा- कुक्षेरप्रणीडनमाहारेण, हृदयस्यानवरोधः, पार्श्वयोरविपाटनम्, अनतिगौरवमुदरस्य, प्रीणनमिन्द्रियाणां, क्षुत्पिपासोपरमः,
स्थानासनशयनगमनोच्छ्वासप्रश्वासहास्यसङ्कथासु सुखानुवृत्तिः, सायं प्रातश्च सुखेन परिणमनं, बलवर्णोपचयकरत्वं च;
इति मात्रावतो लक्षणमाहारस्य भवति||६||
tatra mātrāvattvaṁ pūrvamuddiṣṭaṁ kukṣyaṁśavibhāgēna, tadbhūyō vistarēṇānuvyākhyāsyāmaḥ| tadyathā- kukṣērapraṇīḍanamāhārēṇa, hr̥dayasyānavarōdhaḥ, pārśvayōravipāṭanam,anatigauravamudarasya, prīṇanamindriyāṇāṁ, kṣutpipāsōparamaḥ,sthānāsanaśayanagamanōcchvāsapraśvāsahāsyasaṅkathāsu sukhānuvr̥ttiḥ, sāyaṁ prātaśca sukhēnapariṇamanaṁ [1] , balavarṇōpacayakaratvaṁ ca; iti mātrāvatō lakṣaṇamāhārasya bhavati||6||
tatra mAtrAvattvaM pUrvamuddiShTaM kukShyaMshavibhAgena, tadbhUyo vistareNAnuvyAkhyAsyAmaH| tadyathA kukSherapraNIDanamAhAreNa, hRudayasyAnavarodhaH, pArshvayoravipATanam, anatigauravamudarasya, prINanamindriyANAM, kShutpipAsoparamaH, sthAnAsanashayanagamanocchvAsaprashvAsa hAsyasa~gkathAsu sukhAnuvRuttiH, sAyaM prAtashca sukhenapariNamanaM balavarNopacayakaratvaM, ca; iti mAtrAvato lakShaNamAhArasya bhavati||6||
Whether the quantity of food to be consumed is appropriate or not is determined on the basis of the capacity of the stomach and its division into three parts, as mentioned earlier. This will again be described here in detail.
Any quantity of food to be consumed can be considered appropriate if it does not exert undue pressure on the abdomen, does not cause obstruction in the proper functioning of the heart, does not exert any pressure on the sides of the chest, does not leave a feeling of excessive heaviness in the abdomen, properly nourishes(satisfies) the sense organs, subsides hunger and thirst, after consuming which the person is able to perform activities such as standing, sitting, walking, exhaling, inhaling, laughing, and talking with ease, and is easy to digest when taken in the morning and evening hours. Food consumed in the appropriate quantity enhances strength, complexion, and nourishment of tissues. [6]
Features after consuming improper quantity of food
अमात्रावत्त्वं पुनर्द्विविधमाचक्षते- हीनम्, अधिकं च|
तत्र हीनमात्रमाहारराशिं बलवर्णोपचयक्षयकरमतृप्तिकरमुदावर्तकरमनायुष्यवृष्यमनौजस्यं शरीरमनोबुद्धीन्द्रियोपघातकरं सारविधमनमलक्ष्म्यावहमशीतेश्च वातविकाराणामायतनमाचक्षते,
अतिमात्रं पुनः सर्वदोषप्रकोपणमिच्छन्ति कुशलाः|
यो हि मूर्तानामाहारजातानां सौहित्यं गत्वा द्रवैस्तृप्तिमापद्यते भूयस्तस्यामाशयगता वातपित्तश्लेष्माणोऽभ्यवहारेणातिमात्रेणातिप्रपीड्यमानाः सर्वे युगपत् प्रकोपमापद्यन्ते,
ते प्रकुपितास्तमेवाहारराशिमपरिणतमाविश्य कुक्ष्येकदेशमन्नाश्रिता विष्टम्भयन्तः सहसा वाऽप्युत्तराधराभ्यां मार्गाभ्यां प्रच्यावयन्तः पृथक् पृथगिमान् विकारानभिनिर्वर्तयन्त्यतिमात्रभोक्तुः|
तत्र वातः शूलानाहाङ्गमर्दमुखशोषमूर्च्छाभ्रमाग्निवैषम्यपार्श्वपृष्ठकटिग्रहसिराकुञ्चनस्तम्भनानि करोति,
पित्तं पुनर्ज्वरातीसारान्तर्दाहतृष्णामदभ्रमप्रलपनानि,
श्लेष्मा तु छर्द्यरोचकाविपाकशीतज्वरालस्यगात्रगौरवाणि||७||
amātrāvattvaṁ punardvividhamācakṣatē- hīnam, adhikaṁ ca| tatra hīnamātramāhārarāśiṁbalavarṇōpacayakṣayakaramatr̥ptikaramudāvartakaramanāyuṣyavr̥ṣyamanaujasyaṁśarīramanōbuddhīndriyōpaghātakaraṁ sāravidhamanamalakṣmyāvahamaśītēścavātavikārāṇāmāyatanamācakṣatē, atimātraṁ punaḥ sarvadōṣaprakōpaṇamicchanti kuśalāḥ| yō hi mūrtānāmāhārajātānāṁ sauhityaṁ gatvā dravaistr̥ptimāpadyatē bhūyastasyāmāśayagatāvātapittaślēṣmāṇō'bhyavahārēṇātimātrēṇātiprapīḍyamānāḥ sarvē yugapat prakōpamāpadyantē, tēprakupitāstamēvāhārarāśimapariṇatamāviśya kukṣyēkadēśamannāśritā [1] viṣṭambhayantaḥ sahasāvā'pyuttarādharābhyāṁ mārgābhyāṁ pracyāvayantaḥ pr̥thak pr̥thagimānvikārānabhinirvartayantyatimātrabhōktuḥ| tatra vātaḥ śūlānāhāṅgamardamukhaśōṣamūrcchābhramāgnivaiṣamya-pārśvapr̥ṣṭhakaṭigrahasirākuñcanastambhanāni karōti, pittaṁpunarjvarātīsārāntardāhatr̥ṣṇāmadabhramapralapanāni, ślēṣmā tuchardyarōcakāvipākaśītajvarālasyagātragauravāṇi||7||
punardvividhamAcakShate-hInam,adhikaM ca| tatra hInamAtramAhArarAshiM balavarNopacayakShayakaramatRuptikaramudAvartakaramanAyuShyavRuShyamanaujasyaMsharIramanobuddhIndriyopaghAtakaraM sAravidhamanamalakShmyAvahamashIteshca vAtavikArANAmAyatanamAcakShate, atimAtraM punaH sarvadoShaprakopaNamicchanti kushalAH| yo hi mUrtAnAmAhArajAtAnAM sauhityaM gatvA dravaistRuptimApadyate bhUyastasyAmAshayagatA vAtapittashleShmANo~abhyavahAreNAtimAtre- NAtiprapIDyamAnAH sarveyugapatprakopamApadyante,te prakupitAstamevAhArarAshimapariNatamAvishya kukShyekadeshamannAshritA viShTambhayantaH sahasA vA~apyuttarAdharAbhyAM mArgAbhyAM pracyAvayantaH pRuthak pRuthagimAn vikArAnabhinirvartayantyatimAtrabhoktuH| tatra vAtaH shUlAnAhA~ggamardamukhashoShamUrcchAbhramAgnivaiShamya- pArshvapRuShThakaTigrahasirAku~jcanastambhanAni karoti, pittaM punarjvarAtIsArAntardAhatRuShNAmadabhramapralapanAni, shleShmA tu chardyarocakAvipAkashItajvarAlasyagAtragauravANi||7||
Inappropriate quantity is of two types - deficient or excessive in quantity – as briefly mentioned earlier. The food taken in deficient quantity is said to be the cause of reduction in strength, complexion and nourishment of body tissues, non–satisfaction, altered peristalsis and misplacement of vayu, impairments in life-functions, quality of body tissues (saara), sexual stamina (virility) and ojas (vitality), damage to the body, mind, intellect, and sense organs, inducing inauspiciousness and also making the person home to a variety of disorders of vata.
One who eats solid foods in excess and also drinks beyond satiation will have all the three dosha- vata, pitta and kapha - in his stomach vitiated simultaneously due to their getting compressed by all the excess food. Thus, vitiated dosha in the undigested food mass get localized into a part of the stomach, which then either obstruct the movements in the abdomen or suddenly get eliminated through upper and lower channels of the alimentary tract. They produce distinct features in the person as follows:
Vata causes colic pain, distension of the abdomen, body ache, dryness of the mouth, fainting, giddiness, variability in digestive power, rigidity in flanks, back and waist and contraction (spasm) and hardening of vessels.
Pitta causes fever, diarrhea, burning sensation inside body, thirst, intoxicated state, giddiness and delirium, and
Kapha causes vomiting, anorexia, indigestion, fever with cold, laziness and heaviness in the body.[7]
Other causative factors for ama formation
न च खलु केवलमतिमात्रमेवाहारराशिमामप्रदोषकरमिच्छन्ति अपि
तु खलु गुरुरूक्षशीतशुष्कद्विष्टविष्टम्भिविदाह्यशुचिविरुद्धानामकाले
चान्नपानानामुपसेवनं,कामक्रोधलोभमोहेर्ष्याह्रीशोकमानोद्वेगभयोपतप्तमनसा वा यदन्नपानमुपयुज्यते,
तदप्याममेव प्रदूषयति||८||
na ca khalu kēvalamatimātramēvāhārarāśimāmapradōṣakaramicchanti [1] , api tu khalugururūkṣaśītaśuṣkadviṣṭaviṣṭambhividāhyaśuciviruddhānāmakālē cānnapānānāmupasēvanaṁ,kāmakrōdhalōbhamōhērṣyāhrīśōkamānōdvēgabhayōpataptamanasā vā yadannapānamupayujyatē,tadapyāmamēva pradūṣayati||8||
naca khalu kevalamatimAtramevAhArarAshimAmapradoShakaramicchant, api tu khalugururUkShashItashuShkadviShTaviShTambhividAhyashuci -viruddhAnAmakAlecAnnapAnAnAmupasevanaM,kAmakrodhalobha -moherShyAhrIshokamAnodvegabhayopataptamanasA vA yadannapAnamupayujyate, tadapyAmameva pradUShayati||8||
The quantum of food is not the only cause of formation of [[ama] (undigested and non-metabolized food) in the body but also the use of diet and drinks which are heavy to digest, and with properties like dry, cold, dehydrated, disliked by the consumer, constipation-causing, causing a burning sensation, unclean, incompatible, and/or consumed untimely. Intake of food while the mind being afflicted with passion/desires, anger, greed, infatuation, envy, bashfulness, grief, conceit, excitement and fear are also the cause of formation of ama. [8]
Influence of mental status on digestion
भवति चात्र-
मात्रयाऽप्यभ्यवहृतं पथ्यं चान्नं न जीर्यति|
चिन्ताशोकभयक्रोधदुःखशय्याप्रजागरैः||९||
bhavati cātra- mātrayā'pyabhyavahr̥taṁ pathyaṁ cānnaṁ na jīryati| cintāśōkabhayakrōdhaduḥkhaśayyāprajāgaraiḥ||9||
Bhavati cAtra- mAtrayA~apyabhyavahRutaM pathyaM cAnnaM na jIryati| cintAshokabhayakrodhaduHkhashayyAprajAgaraiH||9||
Thus it can be said that any wholesome food, even if taken in the right quantity, does not get digested if the mental state of the person is riddled with anxiety, grief, fear, anger, or restless and irritable due to lack of sleep.[9]
Two types of ama disorders
तं द्विविधमामप्रदोषमाचक्षते भिषजः- विसूचिकाम्, अलसकं च||१०||
tam dvividhamAmapradoShamAcakShate bhiShajaH-visUcikAm,AlasakaM ca||10||
taṁ dvividhamāmapradōṣamācakṣatē bhiṣajaḥ- visūcikām, alasakaṁ ca||10||
Physicians describe two types of diseases caused by ama dosha –visuchika (non infectious gastroenteritis) and alasaka (sluggish bowels). [10]
Visuchika(non infectious gastroenteritis)
तत्र विसूचिकामूर्ध्वं चाधश्च प्रवृत्तामदोषां यथोक्तरूपां विद्यात्||११||
tatra visūcikāmūrdhvaṁ cādhaśca pravr̥ttāmadōṣāṁ yathōktarūpāṁ vidyāt||11||
tatravisUcikAmUrdhvaM cAdhashca pravRuttAmadoShAM yathoktarUpAM vidyAt||11||
The expulsion of ama dosha (undigested food) through both upper and lower passages of the gastrointestinal tract with the features already described above is Visuchika (non infectious gastroenteritis).[11]
Alasaka(sluggish bowel)
अलसकमुपदेक्ष्यामः-
दुर्बलस्याल्पाग्नेर्बहुश्लेष्मणो वातमूत्रपुरीषवेगविधारिणः स्थिरगुरुबहुरूक्षशीतशुष्कान्नसेविनस्तदन्नपानमनिलप्रपीडितं श्लेष्मणा
च विबद्धमार्गमतिमात्रप्रलीनमलसत्वान्न बहिर्मुखीभवति,
ततश्छर्द्यतीसारवर्ज्यान्यामप्रदोषलिङ्गान्यभिदर्शयत्यतिमात्राणि अतिमात्रप्रदुष्टाश्च दोषाः प्रदुष्टामबद्धमार्गास्तिर्यग्गच्छन्तः कदाचिदेव केवलमस्य शरीरं दण्डवत् स्तम्भयन्ति,
ततस्तं दण्डालसकमसाध्यं ब्रुवते|
विरुद्धाध्यशनाजीर्णाशनशीलिनः पुनरामदोषमामविषमित्याचक्षते भिषजः,
विषसदृशलिङ्गत्वात्; तत् परमसाध्यम्, आशुकारित्वाद्विरुद्धोपक्रमत्वाच्चेति||१२||
alasakamupadēkṣyāmaḥ- durbalasyālpāgnērbahuślēṣmaṇō vātamūtrapurīṣavēgavidhāriṇaḥsthiragurubahurūkṣaśītaśuṣkānnasēvinastadannapānamanilaprapīḍitaṁ ślēṣmaṇā cavibaddhamārgamatimātrapralīnamalasatvānna bahirmukhībhavati,tataśchardyatīsāravarjyānyāmapradōṣaliṅgānyabhidarśayatyatimātrāṇi| atimātrapraduṣṭāśca dōṣāḥ praduṣṭāmabaddhamārgāstiryaggacchantaḥ kadācidēva kēvalamasya śarīraṁdaṇḍavat stambhayanti, tatastaṁ [1] daṇḍālasakamasādhyaṁ bruvatē| viruddhādhyaśanājīrṇāśanaśīlinaḥ punarāmadōṣamāmaviṣamityācakṣatē [2] bhiṣajaḥ, viṣasadr̥śaliṅgatvāt;tat paramasādhyam, āśukāritvādviruddhōpakramatvāccēti||12||
AlasakamupadeksyamaH- durbalasyAlpAgnerbahushleShmaNo vAtamUtrapurIShavegavidhAriNaH sthiragurubahurUkShashItashuShkAnnasevinastadannapAnamanilaprapIDitaM shleShmaNA ca vibaddhamArgamatimAtrapralInamalasatvAnna bahirmukhIbhavati,tatashchardyatIsAravarjyAnyAmapradoShali~ggAnyabhidarshayatyatimAtrANi| atimAtrapraduShTAshca doShAH praduShTAmabaddhamArgAstiryaggacchantaH kadAcideva kevalamasya sharIraM daNDavat stambhayanti, tatastaM daNDAlasakamasAdhyaM bruvate| viruddhAdhyashanAjIrNAshanashIlinaH punarAmadoShamAmaviShamityAcakShate bhiShajaH, viShasadRushali~ggatvAt; tat paramasAdhyam, AshukAritvAdviruddhopakramatvAcceti||12||
If a frail person having weak digestive power and excess of kapha in the body, habitually suppresses the urges of passing flatulence, micturition and bowel movement and at the same time consumes solid, heavy, excessively dry, and cold, dehydrated foods in excessive quantities, his ingested food gets afflicted by vayu. Even exerting pressure does not push the undigested food out of the passage since it is obstructed by kapha, by excreta accumulated already, and also because of sluggishness caused by all these factors. This condition is called Alasaka. All the characteristic features of ama dosha, devoid of vomiting and diarrhea, are manifested severely in Alasaka.
The extremely vitiated
dosha
move towards oblique passages as the other passages are blocked by aggravated
ama
. This will sometimes cause the body to become rigid, like a wooden rod/staff. This incurable clinical condition is known as
dandaalasaka
. The
ama dosha
of an individual who regularly consumes incompatible diet, multiple heavy meals (in short intervals) and eats even before the previous meal is digested is called
ama visha
(clinical state of indigestion characterized by manifestation of toxic symptoms) because of resemblance of manifested symptoms to that of poisoning. It is considered incurable because of its acute presentation and also because of its contradictory line of management .[12]
Management of ama disorders
तत्र साध्यमामं प्रदुष्टमलसीभूतमुल्लेखयेदादौ पाययित्वा सलवणमुष्णं वारि, विसूचिकायां स्वेदनवर्तिप्रणिधानाभ्यामुपाचरेदुपवासयेच्चैनम्| ततः लङ्घनमेवाग्रे विरिक्तवच्चानुपूर्वी|
आमप्रदोषेषु त्वन्नकाले जीर्णाहारं पुनर्दोषावलिप्तामाशयं स्तिमितगुरुकोष्ठमनन्नाभिलाषिणमभिसमीक्ष्य आमप्रदोषदुर्बलो च, नत्वेवाजीर्णाशनम्;
पाययेद्दोषशेषपाचनार्थमौषधमग्निसन्धुक्षणार्थं ह्यग्निर्नयुगपद्दोषमौषधमाहारजातं च पक्तुम्|
शक्तः अपि पुनर्विकाराणामपतर्पणेनैवोपरमो सहसैवातुरमबलमतिपातयेत्|
आमप्रदोषजानां चामप्रदोषाहारौषधविभ्रमोऽतिबलत्वादुपरतकायाग्निं भवति, सति त्वनुबन्धे कृतापतर्पणानां व्याधीनां निग्रहे निमित्तविपरीतमपास्यौषधमातङ्कविपरीतमेवावचारयेद्यथास्वम्|सर्वविकाराणामपि च निग्रहे वा|
कुशलाः, तदर्थकारि हेतुव्याधिविपरीतमौषधमिच्छन्ति विमुक्तामप्रदोषस्य पुनः परिपक्वदोषस्य दीप्ते चाग्नावभ्यङ्गास्थापनानुवासनं विधिवत् स्नेहपानं च युक्त्या प्रयोज्यं प्रसमीक्ष्य दोषभेषजदेशकालबलशरीराहार सात्म्यसत्त्वप्रकृतिवयसामवस्थान्तराण विकारांश्च सम्यगिति||१३||
tatra sādhyamāmaṁ praduṣṭamalasībhūtamullēkhayēdādau pāyayitvā salavaṇamuṣṇaṁ vāri, tataḥsvēdanavartipraṇidhānābhyāmupācarēdupavāsayēccainam| visūcikāyāṁ tu laṅghanamēvāgrē viriktavaccānupūrvī| āmapradōṣēṣu tvannakālē jīrṇāhāraṁ punardōṣāvaliptāmāśayaṁstimitagurukōṣṭhamanannābhilāṣiṇamabhisamīkṣyapāyayēddōṣaśēṣapācanārthamauṣadhamagnisandhukṣaṇārthaṁ ca, natvēvājīrṇāśanam;āmapradōṣadurbalō hyagnirna yugapaddōṣamauṣadhamāhārajātaṁ ca śaktaḥ paktum| api cāmapradōṣāhārauṣadhavibhramō'tibalatvāduparatakāyāgniṁ [1] sahasaivāturamabalamatipātayēt| āmapradōṣajānāṁ punarvikārāṇāmapatarpaṇēnaivōparamō bhavati, sati tvanubandhē kr̥tāpatarpaṇānāṁvyādhīnāṁ nigrahē nimittaviparītamapāsyauṣadhamātaṅkaviparītamēvāvacārayēdyathāsvam| sarvavikārāṇāmapi ca nigrahē hētuvyādhiviparītamauṣadhamicchanti kuśalāḥ, tadarthakāri vā| vimuktāmapradōṣasya [2] punaḥ paripakvadōṣasya dīptē cāgnāvabhyaṅgāsthāpanānuvāsanaṁ vidhivatsnēhapānaṁ ca yuktyā prayōjyaṁ prasamīkṣyadōṣabhēṣajadēśakālabalaśarīrāhārasātmyasattvaprakr̥tivayasāmavasthāntarāṇi vikārāṁścasamyagiti||13||
sAdhyamAmaM praduShTamalasIbhUtamullekhayedAdau pAyayitvA salavaNamuShNaM vAri, tataH svedanavartipraNidhAnAbhyAmupAcaredupavAsayeccainam| visUcikAyAM tu la~gghanamevAgre viriktavaccAnupUrvI| AmapradoSheShu tvannakAle jIrNAhAraM punardoShAvaliptAmAshayaM stimitagurukoShThamanannAbhilAShiNamabhisamIkShya pAyayeddoShasheShapAcanArthamauShadhamagnisandhukShaNArthaM ca, natvevAjIrNAshanam; AmapradoShadurbalo hyagnirna yugapaddoShamauShadhamAhArajAtaM ca shaktaH paktum|api cAmapradoShAhArauShadhavibhramo~atibalatvAduparatakAyAgniM sahasaivAturamabalamatipAtayet| AmapradoShajAnAM punarvikArANAmapatarpaNenaivoparamo bhavati, sati tvanubandhekRutApatarpaNAnAM vyAdhInAM nigrahenimittaviparItamapAsyauShadhamAta~gkaviparItamevAvacArayedyathAsvam| sarvavikArANAmapi ca nigrahehetuvyAdhiviparItamauShadhamicchanti kushalAH, tadarthakAri vA| vimuktAmapradoShasya punaH paripakvadoShasya dIpte cAgnAvabhya~ggAsthApanAnuvAsanaM vidhivat snehapAnaM ca yuktyA prayojyaM prasamIkShya doShabheShajadeshakAlabalasharIrAhArasAtmyasattvaprakRutivayasAmavasthAntarANi vikArAMshca samyagiti||13||
The curable variety of ama dosha should be eliminated through emesis, by administering warm saline water and thereafter fomentation and application of suppositories while the patient is kept on fasting.
In case of Visuchika, treatment should start with langhana measures (therapy that reduces heaviness in the body) and specific dietary regimen as followed after therapeutic purgation.
If in the state of vitiation of ama, the patient has finally digested the previously eaten meal, but while ingesting the present meal, if the dosha still adhere inside the stomach and the feeling in the abdomen is cold/ inactive, heavy and aversion to food, then the patient should be advised medicines for digestion of the remaining dosha (pachana drugs) and also for stimulation of digestive fire (deepana drugs).The patient should not be given food during indigestion since the agni (digestive power) which is already weak by excessive vitiation of ama is incapable of simultaneously digesting the dosha, the drug and the diet. In a patient who is already weak and has low digestive ability, the cumulative effect of excessively morbid ama (ama pradosha), food and drug will further deplete the strength of the patient and could even lead to death.
The amelioration of diseases caused by ama is done by apatarpana i.e. depletion therapy. If the disease further progresses even after depletion therapy, appropriate measures should be adopted to counter the morbid condition. Experts recommend the use of measures antagonistic to both the disease as well as its etiological factors, especially medications that could treat them both.
When the patient is relieved from excessive morbidity of ama, the dosha are in completely digested form and once his digestive fire has been rekindled/restored, he should be administered, systematically and skillfully, measures such as oleation, corrective and unctuous enema (asthapana and anuvasana types of basti), and appropriate internal administration of unctuous substances following the specific procedure after careful assessment of the status of dosha, drugs, place, time, strength, body, diet, satmya, psyche, constitution, age etc. and also the diseases .[13]
Importance of dietary guidelines in preservation of health
भवति चात्र-
आहारविध्यायतनानि चाष्टौ सम्यक् परीक्ष्यात्महितं विदध्यात्|
अन्यश्च यः कश्चिदिहास्ति मार्गो हितोपयोगेषु भजेत तं च||१४||
bhavati cātra- āhāravidhyāyatanāni cāṣṭau samyak parīkṣyātmahitaṁ vidadhyāt| anyaśca yaḥ kaścidihāsti mārgō hitōpayōgēṣu bhajēta taṁ ca||14||
Bhavati cAtra- AhAravidhyAyatanAni cAShTau samyak parIkShyAtmahitaM vidadhyAt| anyashca yaH kashcidihAsti mArgo hitopayogeShu bhajeta taM ca||14||
Thus it is said-
The person should promote his wellbeing himself by properly examining the eight factors of dieting which determine the wholesomeness of the food. In addition, other measures which are conducive to health and wellbeing (that are described elsewhere) should also be adopted (per the recommendations of
Ayurveda
practitioners). [14]
Query about site of digestion
अशितं खादितं पीतं लीढं च क्व विपच्यते|
एतत्त्वां धीर! पृच्छामस्तन्न आचक्ष्व बुद्धिमन्||१५||
aśitaṁ khāditaṁ pītaṁ līḍhaṁ ca kva vipacyatē| ētattvāṁ dhīra! pr̥cchāmastanna ācakṣva buddhiman||15||
ashitaM khAditaM pItaM lIDhaM ca kva vipacyate| etattvAM dhIra! pRucchAmastanna AcakShva buddhiman||15||
Where all the food that is eaten, masticated, drunk and licked up are digested, O perseverant? We ask this question to you, so please solve our query, O enlightened one! [15]
इत्यग्निवेशप्रमुखैः शिष्यैः पृष्टः पुनर्वसुः|
आचचक्षे ततस्तेभ्यो यत्राहारो विपच्यते||१६||
ityagnivēśapramukhaiḥ śiṣyaiḥ pr̥ṣṭaḥ punarvasuḥ| ācacakṣē tatastēbhyō yatrāhārō vipacyatē||16||
ityagniveshapramukhaiH shiShyaiH pRuShTaH punarvasuH| AcacakShe tatastebhyo yatrAhAro vipacyate||16||
Thus having been questioned by the disciples led by Agnivesha, Lord Atreya described them the organ where food is digested. [16]
Description of Amashaya(stomach)
Surface anatomy of amashaya
नाभिस्तनान्तरं जन्तोरामाशय इति स्मृतः|
अशितं खादितं पीतं लीढं चात्र विपच्यते||१७||
nābhistanāntaraṁ jantōrāmāśaya iti smr̥taḥ| aśitaṁ khāditaṁ pītaṁ līḍhaṁ cātra vipacyatē||17||
nAbhistanAntaraM jantorAmAshaya iti smRutaH| ashitaM khAditaM pItaM lIDhaM cAtravipacyate||17||
It is the part of the human body- the amashaya - situated between umbilicus and the breast line wherein all that is eaten, masticated, drunk and licked up is digested.[17]
आमाशयगतः पाकमाहारः प्राप्य केवलम्|
पक्वः सर्वाशयं पश्चाद्धमनीभिः प्रपद्यते||१८||
āmāśayagataḥ pākamāhāraḥ prāpya kēvalam| pakvaḥ sarvāśayaṁ paścāddhamanībhiḥ prapadyatē||18||
AmAshayagataH pAkamAhAraH prApya kevalam| pakvaH sarvAshayaM pashcAddhamanIbhiH prapadyate||18||
All the food articles are completely digested after reaching the amashaya. Once the digestion is complete, the digested essence of food reaches all the organs of the body by means of the vessels. [18]
Summary
तत्र श्लोकः-
तस्य मात्रावतो लिङ्गं फलं चोक्तं यथायथम्|
अमात्रस्य तथा लिङ्गं फलं चोक्तं विभागशः||१९||
tatra ślōkaḥ- tasya mātrāvatō liṅgaṁ phalaṁ cōktaṁ yathāyatham| amātrasya tathā liṅgaṁ phalaṁ cōktaṁ vibhāgaśaḥ||19||
tatra shlokaH- tasya mAtrAvatoli~ggaMphalaM coktaM yathAyatham| amAtrasya tathA li~ggaM phalaM coktaM vibhAgashaH||19||
Now, to sum up the above verses:
The symptoms and final outcome of the diet taken in proper and improper quantities have been described here. [19]
इत्यग्निवेशकृते तन्त्रे चरकप्रतिसंस्कृते विमानस्थाने त्रिविधकुक्षीयविमानं नाम द्वितीयोऽध्यायः||२||
ityagniveshakRute tantre carakapratisaMskRute vimAnasthAne trividhakukShIyavimAnaM nAma dvitIyo~adhyAyaH||2||
Thus ends the second chapter on characteristics of three divisions of the capacity of the stomach, of the Vimana Section of Agnivesha's treatise, redacted by Charak. ||2||
Tattva Vimarsha (Fundamental Principles)
Diet plays an important role in the maintenance of good health and in the prevention and cure of the disease; the proper balanced food is the most important factor in the promotion of positive health.
Quantity of food taken should depend on the capacity of the stomach. One third of stomach should have solids, second third should have liquids and last third should be empty to facilitate biochemical and biomechanical action of stomach.
If food taken in the morning is digested by evening and food taken in the evening is digested by morning, it indicates that the correct quantity of food has been consumed. Excess or inadequate food causes malnourishment while optimum quantity of food causes nourishment. Food ingested in proper quantity produces effects on all biological systems including sense organs, strength and complexion. Assessment of proper digestion and metabolism can be done as per given signs.
Positive mental status is important while taking food. The negative mental status can lead to improper digestion, even if the food is in proper quantity.
The food that is heavy to digest, dry, cold, dehydrated, disliked by consumer, causing constipation and burning, unclean and incompatible causes disorders of ama such as visuchika, alasaka, and dandalasaka (indigestion, food poisoning, paralytic ileus).
Vidhi Vimarsha (Applied Inferences)
Importance of quantity of diet in preservation of health
A wholesome diet reserves the highest place for proper growth, development, and health maintenance in human life [Cha.Sa.Sutra Sthana25/31], [Chakrapani on Cha.Sa.Sutra Sthana 5/2]. As described in previous chapter, the effect of food articles on body tissues primarily depends on eight factors (ashta aahara vidhi vishesha aayatana) like nature of food (prakriti), preparation methods (karana), combination(samyoga), quantity(rashi), place(desha), time (kala), rules for use(upayoga -samstha) and consumer(upayokta).[Cha.Sa. Vimana Sthana 1/21] The quantity of food (rashi) is emphasized in the tetrad of chapters on health (Swastha chatushka) in sutra sthana for preservation of health and prevention of diseases. [Cha.Sa.Sutra Sthana 5/3]. This chapter discusses the effect of food articles on body physiology concerning amount explicitly. It further explains dosha specific disorders with predominant involvement of dosha in manifestation of the disease; and negligible involvement of dushya (dhatu and mala).
Importance of Agni (digestion and metabolism) in health
The proper quantity of food depends on the strength of agni (factors responsible for digestion and metabolism). The strength of agni varies according to season, age and other factors. Thus the amount of food will also vary as per the power of agni. Suitable variation in quantity of food helps maintaining proper digestion and metabolism. The quantity further subjects to heavy to digest (gurutva) and light to digest (laghutva) nature of food. Nourishing benefits of diet is subjected to the status of agni. Thus agni is an important facilitator between health and food. Assessment of the status of agni is an essential component in maintenance of health as well as while treating diseased conditions.
Assessment of status of Agni
Depending on the predominance of afflicted dosha, four types of digestive patterns (agni) are described:
Samagni (Normal state of digestion and metabolism)
Vishamagni (irregular state of digestion and metabolism)
Tikshagni (rapid or intense state of digestion and metabolism)
Mandagni (slow or weak state of digestion and metabolism).
The first type of normal digestion (samagni) needs 12 hours (4 yama) for complete digestion of food, and 6 hours (2 yama) for proper digestion of medicine. [A.S. Sutra Sthana 11/53] The time taken for complete digestion suggests digestive pattern of that individual.
Eswaran H. T. et. al. prepared an agni assessment scale comprising 64 questions to evaluate the four types of agni. The study has validated a scale for internal consistency. [1] Singh A, Patwardhan K. et. al. developed and validated a self-assessment tool to estimate strength of agni by recording serum lipid parameters. [2] Patil VC, Baghel MS et. al. developed formulae for assessment of the digestive functions (agni) during administration of snehana (internal oleation). [3] These tools are used to assess the status of agni and determine proper qunatity.
Agni performs various functions of digestion, metabolism and assimilation. Gastric secretions are digestive fluid, formed in the stomach and contain numerous compounds including hydrochloric acid (HCL), pepsin, lipase, mucin. Kulatunga et al assessed the status of agni in the patients of pandu (anemia and blood deficiency disorders) and found its relationship with the acidity of gastric secretions by use of fractional test meal examination. Their study concluded that HCL reduction in patients of anemia seriously affects the protein and iron absorption; thus Hypochlorhydria (found in 72.8% of the patients) indicates hypofunction of agni. [4] The fractional meal test examination is applied to study status of agni in relation to disease formation.
Varieties of food for determining quantity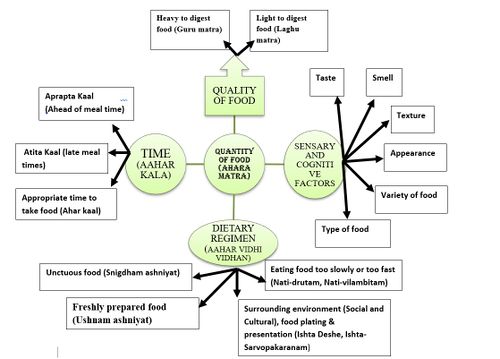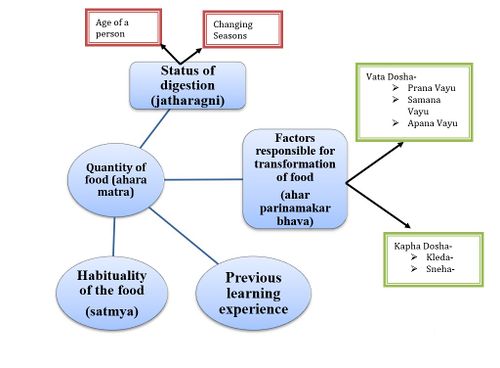 Depending on the consistency, the food articles are classified into various categories:
Drinkable (peya) e.g. water, milk etc.
Lickables (lehya) e.g. rasala (curd mixed with sugar and spices) and kadhi (a traditional Indian dish consisting mainly of yogurt and gram floor)
Soft eatables(bhojya) e.g. dal Rice
Hard eatables(bhakshya) e.g. laddu, modak (kind of sweet meal)
Chewables (charvya) e.g. poha, roasted horse gram
Suckables(chushya) e.g. sugarcane
These food articles are heavy to digest in ascending order. [B.P. Prathama Khanda 4/142-143] [5] These types are further abbreviated under two major classes as liquid foods and solid foods. Both types of food can be consumed upto half of satiety point. If consumed in proper quantity, these are digested in due time, without disturbing dosha physiology (prakriti). Subjective parameters shall be observed carefully to decide the proper quantity of food. [Cha. Sa.Vimana Sthana 2/6]
Amashaya- site of digestion
Amashaya is a site of digestion of all types of food. After complete digestion, the digested essence of food reaches all the body organs through vessels. Amashaya is seat of pitta dosha and kapha dosha [Cha. Sa.Sutra Sthana 20/8] and the disorders originated from amashaya are specifically grouped as the disorders having a predominance of these two dosha. [Cha.Sa.Vimana Sthana 6/3] The pachaka pitta and kledaka kapha play vital role in digestion. Amashaya is situated between the umbilicus and the breast as per surface anatomy. Stomach is considered as upper segment of amashaya. Small intestine along with liver and pancreas is considered as the lower segment of amashaya.
Proper quantity of food
If a person has taken excellent quality food as per the eight specific dietary factors (ashta aahara vidhi vishesha ayatana) and followed all the rules while taking food (aahara vidhi vidhana), then the food is digested in due time without disturbing the equilibrium of dosha (prakriti), and that amount of food is termed as the "proper quantity of food for that person".
The extrinsic and intrinsic factors influencing quantity of food are shown in fig.1 and fig.2 respectively.
Assessment of food ingestion capacity (ahara shakti)
The food ingestion capacity (aahara shakti) of a person is assessed on two parameters:
Food ingestion capacity (abhyavaharana shakti) and
Digestion capacity (jarana shakti) [Cha.Sa.Vimana Sthana 8/120]
Role of satiety and three parts of ingestion capacity
Satiety is one of the subjective parameters to assess the ingestion capacity of a person. The maximum ingestion capacity of a person should be divided into three parts. One-third part of food intake should be consumed in solid form and one third part as liquid diet, remaining one third part of total capacity should be kept empty for movement of vata, pitta and kapha. This is the indicator of satiety. This means once the two third part of stomach will be filled, a person will have the feeling of satisfaction [Cha.Sa.Sutra Sthana25/40]. At this point the person should stop eating. If this limit is crossed, the excess food stuff will occupy the third part of stomach which interrupts the process of digestion, causing extra burden on agni (digestive power) and may cause indigestion. The divisions of stomach (amashaya) are not in equal proportion, but it is in accordance with user's suitability and the adaptive pattern of food consumption [Chakrapani on Cha.Sa.Vimana Sthana2/3]. Power of ingestion (abhyavaharana shakti) is different for every individual and it depends upon the strength of digestive capacity (jatharagni). The proper quantity of food (ahara matra) to be consumed subject to power of ingestion and consistency of food articles i.e. solid and liquid.
Some Ayurveda scholars have divided ingestion capacity of amashaya in four parts and advised to take two parts with solid food, one part with liquids and rest one fourth part to be left empty for dosha (as a normal physiology of digestion). [A.Hr.Sutra Sthana8/46-47][6] Arundatta, commentator of Vagbhata has considered this capacity of amashaya as the measurement of satiety.
Physiological mechanism of satiation and proper quantity of food (sauhitya matra)
Satiation is a process that leads to the termination of eating, which may be accompanied by a feeling of satisfaction. Proper quantity of food (sauhitya matra) means eat till the feeling of satiety. This satiety term is further differentiated into two functionally different terminologies namely satiation and satiety. Benelam B defines Satiation as the process that leads to termination of eating, accompanied by feeling of satisfaction. This is also called as within meal satiety. Further he defines Satiety as the feeling of fullness that persists after eating, potentially suppressing further energy intake until hunger returns .[7]Sorensen LB termed it as between-meal satiety. It is the state where eating is inhibited till next eating episode.[8]
Complex network of signals has been involved in development of satiation and satiety. Satiation and satiety involves mechanism which exert their effect through physiological and/or psychological processes. Satiation can modulate the size of meals consumed, controls how much to consume. The physiological mechanism, as outlined by Benelam B. has been referred along with current knowledge which will help to explicit the concept and support to develop objective parameters to asses proper quantity of food (Ahara Matra).
1. Sensory and cognitive factors
Sensory and cognitive factors affect intake of food predominantly. Foods sensory properties like taste, smell, texture, appearance, and food type to be consumed affect satiation in the initial period. These sensory specific properties of food are linked with the sensory specific satiety. Sorensen LB et al have reviewed the multiple aspects related to sensory perception of food and their role in appetite regulation. Sensory-specific satiety has an important influence on the amount of food eaten. Palatability of food greatly influences appetite and food intake. Increase in food variety observed rise in quantity of food and energy intake. This study also reviewed standard procedure to test sensory-specific satiety and identified flavor, texture and appearance-specific satieties.
Variety in food and pleasantness of food to sensory organs increase the intake of food. De Graaf C et al concluded that pleasantness of food affect satiation but do not have significant effect on satiety. [9] [10]
The sensory-specific satiety phenomenon has been explained by Rolls et al with reference to sight and test of food.[11] [12]. Study of Spetter M S et al shows that oral food ingestion evokes greater neural activation of brain signaling pathways specifically in the midbrain, amygdala, hypothalamus, and hippocampus area neural activity related to sensory-specific satiety.[13]
2. Gastric mechanism of satiation
a)Gastric distention: Stomach functions as key component in digestion. It acts as a reservoir of food. The reservoir capacity of the stomach allows it to increase its volume significantly. Its capacity limits the amount of food to be ingested. Stomach distention significantly controls the food intake and satiety.[14],[15] Geliebter A and team while assessing the changes in gastric capacity of obese patients determined the gastric capacity by oral insertion of a latex gastric balloon method.[16]In other works also this is used as a tool to assess the gastric capacity.[17]
b)Gastric and Intestinal Signals: In response to the food many gut peptides are secreted from enteroendocrine cells, which play essential role in regulating food. Steinert RE et al reveals that along with gastric distention, Gastric and intestinal signals (increased GLP-1 and PYY secretions and reduction in plasma ghrelin secretions) synergies to support satiation.[18]
Gut hormones such as cholecystokinin (CCK) and GLP-1, Oxyntomodulin (OXM), Peptide YY, Pancreatic polypeptide (PP) these are the important gut hormones involved in the mechanism of satiation, plays significant role in termination of meal. CCK is considered as potential biomarker for satiation.[19][20] Oxyntomodulin (OXM) delays gastric emptying and reduces gastric acid secretion, decrease food intake.[21]
Leptin, insulin, and ghrelin act as long term regulators of appetite. These are long-acting adiposity hormones. While studying the role of leptin in prandial patterns, researchers observed that plasma leptin concentrations increase during a spontaneous inter-meal interval and decline before the onset of a meal. Leptin works through regulation of hypothalamic feeding circuits. Through negative feedback mechanism leptin reduces food intake and regulates body weight homeostasis. Thus, decreased leptin levels observed to stimulate appetite behavior. Leptin has an influential role in meal frequency and observed less responsible to control meal size.[22]
Ghrelin potentially enhances appetite. It is the first hormone which shows stimulating effect on food intake.[23][24] Ghrelin secreted mainly from the gastric mucosa, its level are at their peak just before a meal, and decreased slowly when food nutrients have travelled to intestine. It acts on hippocampal neurons involved in spatial learning and memory, thus empty stomach passes signal to brain for asking to engage in appetite behavior, feeling of hunger. Ghrelin as orexigenic factor promoted food intake and weight gain. Various cognitive components participate in the initiation of eating and in the selection of food. Schmid DA et al research findings suggest that along with stimulation of appetite, ghrelin affects cognitive functions. They have noted vivid visualization of preferred meal by study subjects after administration of ghrelin.[25] Peptide YY has a suppressive effect on food intake.[26]PPY rise is observed in post prandial phase and are lowest in fasting state. Peripheral administration of PYY3e36 reduces food intake. PPY have shown effect on intestinal motility, delays gastric emptying.[27]
3. Signaling pathways involved in the mechanism of satiation
Food is considered the basic necessity for sustenance of life and attain physical stoutness [Cha.Sa.Sutra Sthana 25/40(1)]. Energy homeostasis depends on food we consume. Hypothalamus and brainstem are mainly involved to maintain the energy levels. The arcuate nucleus (ARC) of hypothalamus plays important role to control intake of food. ARC has orexigenic neurons (appetite stimulating) and anorexigenic neurons (appetite inhibiting). During digestion, food nutrients stimulate G-protein coupled receptor present on enteroendocrine cell, which stimulates release of gut hormone. Gut hormones influences the vagus nerve, hypothalamus and brainstem. Stimulatory and inhibitory neurons present in hypothalamus interact with peripheral signals which results in alteration of eating drive. Vagal afferents stimulated by the gut hormone and sensitive to the stomach's mechanical stretch further connect with the nucleus of the brainstem. Brainstem passes neural signals to hypothalamus. Numerous hormonal and neural signals influence ARC nucleus, which projects to a number of regions including hypothalamic paraventricular nucleus where some essential energy regulating pathways arise.
Gastrointestinal tract releases various peptide hormones. Stomach has its hormonal and neural control mechanism. Presence of food nutrients along with distention of stomach release gut hormones such as PPY, GLP-1, and oxyntomodulin (OXM).These are mainly responsible for phenomenon of satiation. These peptides decrease hypothalamic orexigenic signaling and increase anorexigenic signaling. Negative feedback mechanism results due to these peptides also contribute to increase satiety between meals. Effect of these gut hormones in union with CNS effect results in satiation and satiety. The enteroendocrine cells released hormones interact at different brain levels through circulation and or through primary afferent neurons. Along with induction of satiation and meal termination, gut hormones also produce a positive feeling of reward and satisfaction. Nutrient sensors and their signaling to brain are vital to give feeling of satisfaction.[28] [29] [30]
D Chapelot has described subjective and objective tools for measuring meal size, microstructure of the meal, meal request and inter-meal intervals. A multidimensional approach for assessing satiety is proposed with intensity, duration and intake as main variables.[31] Commings DE et.al have reviewed the interaction of gastric, intestinal, and pancreatic signals in food regulation. They have also discussed the important role of short acting GI factors and long-acting adiposity hormones in food intake regulation. Gerry Smith survey indicates that gastric signals are volumetric in nature and intestinal signals are nutritive in nature.[32]
Graaf CD et al have discussed various biomarkers of satiation and satiety and suggest there use as a tool to assess satiating efficiency of foods and energy balance. This study has also explained PET and fMRI techniques and referred many works that used these technologies to measure the brain responses to various stimuli in context of satiation.[33]
Satiety Cascade: Blundell JE and team developed a satiety cascade, referred as fundamental structure to examine the impact of food on satiation and satiety in future research.[34] [35]
The satiety quotient (SQ): GREEN SM et al developed a satiety quotient (SQ) to assess an eating episode's satiating effect. This is considered as a remarkable contribution in the field in quantifying satiating effects of foods. This quotient relates food intake with the rate of return of motivation to eat post ingestion, which is predictive of energy intake. Thus, for a person, the satiety quotient will vary based on weight, macronutrient composition, and energy density of food.[36]
Low satiety phenotype: 'Low satiety phenotype' is associated with specific behavioral and metabolic profiles that could explain their susceptibility to overeating. These individuals do not recognize their appetite sensation before and after meal. This is considered as an important step in individualized obesity treatment.[37]
Effects of deficient or inadequate quantity of food
A deficient and excessive quantity of food both are detrimental to human health. The deficient quantity of food reduces strength, complexion, and nourishment of body tissues and makes the person a home for various disorders of vata dosha. The quantity of food is one of the major factors which decide the wholesome and unwholesome effect of food on body tissues. [Cha.Sa.Sutra Sthana 25/32]
Under eating or intake of food in reduced quantity (pramitashanam) is mentioned as the principal cause of emaciation (karshaniyanam) [Cha.Sa.Sutra Sthana25/40]. Fasting or over-eating does not kindle digestive fire, as like fire in environment is extinguished if there is no fuel supply or if excessive fuel covers the fire. [Cha.Sa.Chikitsa Sthana 15/211] Taking wholesome food in appropriate quantity after complete digestion of previously eaten food helps to continue good health for long duration.[Cha.Sa.Chikitsa Sthana 15/214] It is observed that deficient quantity of food deteriorate the digestive capacity of agni and in absence of sufficient nutrients leads to malnourishment disorders and poor health status.
There are two ways to measure the quantity of food:
Total quantity of food to be consumed in a meal (sarvagraha)
Quantity of each food article in a meal (parigraha).
The inclusion of different food articles in a meal is to ascertain all the six rasa (tastes) in the required proportion. The nutritional requirement of various body tissues is different. Proportionate quantity of six rasa will ensure the tissue requirement.[Fig.3] The balanced diet concept of Ayurveda is essentially based on this principle. Imbalanced diet concerning six rasa leads to improper nourishment of body tissues, which further leads to depletion of body tissues (dhatu) [Chakrapani on Cha. Sa.Sutra Sthana 5/4]. Long-term exposure of imbalanced diet triggers wear and tear mechanism of tissues and may result in early senility. Biomedical fundamentals of nutrition, macronutrients and micronutrients need to be studied in correlation with six rasa principle to offer better nutritional solutions to the society.
Effects of undernutrition and malnutrition
Malnutrition generally implies undernutrition but also includes other deviations like energy undernutrition and over-nutrition. Malnutrition starts due to deficiencies of specific nutrients or from diets based on inadequate and or inappropriate combinations or proportions of foods. Undernutrition is caused primarily due to an inadequate intake of dietary energy. The impact of a deficient diet on an individual is mainly depending on age factor. Age reflects the condition of body tissues. Body tissues (dhatu) attain different stages form immature growing state of childhood, to the attainment of all the qualities and strength of body tissues in young age, which further slowly enters the state of depletion in old age. Nutritional requirement of body tissues differs according to age. Considering the age of a person, consequences arise due to inadequate diet is discussed under two categories- a) Childhood age b) Adult age.
World health organization explains the malnutrition phenomenon of childhood age under four categories: Stunting, Wasting and overweight and underweight.[38] [39]
1.Stunting (height-for-age below –2 SD) refers to a child who is too short for his or her age. It is the devastating result of poor nutrition during early childhood. These children fail to attain complete possible height. It also hampers cognitive development.
2.Wasting (weight-for-height below –2SD) refers to a too thin child for his or her height. It results due to poor nutrient intake. Children suffering from wasting have weakened immunity, suffer long term developmental delay.
3.Childhood overweight (weight-for-height above +2SD )and obesity are considered an emerging face of malnutrition, resulting in unhealthy, processed food. In later life this increases the risk for diet related non communicable diseases.
4.Underweight (refers weight-for-age below –2SD)
Determinants of under nutrition
Faustin Habyarimana found key determinants of malnutrition of children below five years of age: age, gender, birth weights, mother's knowledge of nutrition, birth order, incidence of recent fever, multiple pregnancies, education level of the mother, age of the mother at childbirth, body mass index, prevalence of anemia, province, source of drinking water and wealth quintiles. A positive correlation between stunting and underweight and wasting and underweight was also found.[40]
Consequences of under-nutrition: The consequences of poor nutrition include impaired growth, poor cognitive and social development, poor school performance, increased risk of morbidity and mortality and reduced productivity later in life.[41] Malnutrition in children affects by impacting cognitive functions, further impends individuals' ability to lead productive life and thus contribute to poverty.
Under-nutrition in adults: Under-nutrition in adults can be correlated with the etiopathogenesis of Karshya described in Ayurveda classics. Undernourishment may be caused by the lack of one or more nutrients (under‐nutrition), or an excess of nutrients (over‐nutrition). Physiological changes associated with the process of ageing may further support malnutrition.[42] [43]
Determinants: Hickson M has Categorized the causes of malnutrition under three category as medical factors (like poor appetite, physical disability, endocrine disorders etc), lifestyle and social factors (lack of knowledge of nutrition, loneliness, povery etc.) and psychological factors.[44]
Morley JE has enumerated the major causes of malnutrition as lack of food, paranoia, emotional factors (like depression), inappropriate dieting, anorexia, problem with feeding (tremors, dementia, functional impairment, and dysphagia), Enteral problems (e.g., gluten enteropathy), Wandering and other dementia related factors and malabsorption.[45]
Older people are at high risk of developing protein-energy malnutrition. It affects health, cognitive and physical functions as well as quality of life. Study concludes that increasing age, unmarried/separated/divorced status, difficulties walking 100 m, climbing stairs and hospitalization, cognitive impairment or receiving social support are the major predictors of malnutrition.[46]
Shetty P has validated scoring systems such as MUST, which indicates patients at risk of malnutrition. BMI less than 18.5 kg/m2 is a sign of undernutrition. Laboratory investigations like hemoglobin or packed cell volume (indicators of anemia, hydration), blood urea (indicating hydration and protein intake), C-reactive protein and ESR (inflammatory pathology), total lymphocyte count (for immune function) are also suggested to aid early diagnosis.[47]Donini LM et al developed and validated a screening tool for the easy detection and reporting of both undernutrition and over-nutrition, two types of malnutrition.[48] A systematic review to evaluate malnutrition biomarkers among older adults, concluded that BMI, hemoglobin, and total cholesterol are useful biomarkers of malnutrition in older adults.[49]
Consequences : Malnutrition in adults is greatly associated with risk of sarcopenia, frailty, falls, dependence in activities, respiratory muscle wasting, effects musculoskeletal system, experience metabolic changes in cellular electrolytes including calcium accumulation, reduced resistance to infection, poor functioning of excretory systems, longer hospital stay, poor response to other medical conditions. Sarcopenia is a syndrome characterized by progressive and generalized loss of skeletal muscle mass and strength and it is strictly correlated with physical disability, poor quality of life and death.[50]Cachexia is a multifactorial syndrome with involuntary progressive weight loss as a result of reduction of skeletal muscle mass with or without depletion of adipose tissue.[51]Frailty is a common clinical syndrome in older adults and is associated with poor health outcomes including falls, disability, hospitalization, decline in functions of various physiological systems and mortality.[52]
Treatment strategies of undernutrition
Provide dietary solutions considering Guts changes of the elderly.[53]
Manipulation in energy / nutritive density of food.[54]
Changes in hedonic pattern (taste, flavor, appearance) of foods.
Provide healthy environment to support emotional quotient.
Provide feeding assistance.
Give motivation for physical activities.[55]
Adopt interdisciplinary approach like inclusion of Yoga techniques to improve mental health.[56]
Effects of excessive quantity of food
Excessive food triggers all three dosha vitiation as there is no space left for functions of dosha. Dosha govern the physiology of digestion. Samana vayu functions nearby the abode of digestive factors (jatharagni), kindles agni. Prana vayu and apana vayu supports the functions of agni. Pachaka pitta when devoid of its liquid property, is responsible for digestion. [A. Hr. Sutra Sthana 12/10-11][6] Kledaka kapha is responsible to moisten the ingested food. Thus the process of digestion is driven by dosha. Factors responsible for complete transformation and absorption of food (ahara parinamakara bhava) explain this phenomenon in-depth. [Cha.Sa.Sharira Sthana6/14],[Cha.Sa.Chikitsa Sthana 15/6-8]. The normal functions of digestion and metabolism are not carried out due to the vitiated dosha. This leads to the formation of ama.
Excessive eating is one of the etiological factors for non-communicable diseases like obesity and diabetes mellitus which are more prevalent in society. Excess intake of calorie food which is not processed properly by digestive power (jatharagni) and further utilized by dhatvagni (type of agni present at tissue level) leads to obesity and related disorders.
Influence of mental health on gut microbiota
The microbiome is the collective genome of all the microorganisms (bacteria, fungi, protozoa and viruses) living in a particular environment, especially living on and inside the human body. Microbiota is the community of microorganisms. Collective genome of various microorganisms of gastrointestinal (GI) tract, termed as gut microbiome.[57]
Gut microbiome plays a significant role in intestinal physiology and regulation. Gut microbiota produces microbial metabolites like short-chain fatty acids (SCFAs) mainly acetate, propionate, and butyrate; promotes local intestinal immunizations and systemic immunity .[58] [59]Gut microbiome has a regulatory role in behavior and cognition and it is exercised through gut-brain axis.[60]
Gut-Brain axis has bidirectional communication between central and enteric nervous system. It connects emotional and cognitive centers of brain to peripheral intestinal functions. By means of neural, endocrine, immune, and humoral links gut microbiota interact with GBA axis .[61]Marilia Carabotti et al in there review article have explored these interactions, as well as the possible pathophysiological mechanisms involved. Microbiota-gut-brain axis monitors and integrates gut functions and links emotional and cognitive centers of the brain with peripheral intestinal functions. This complex network includes central nervous system (CNS), the autonomic nervous system (ANS), the enteric nervous system (ENS) and the hypothalamic pituitary adrenal (HPA) axis. Central nervous system communicates with enteric nervous system (ENS), intestinal muscle layers and gut mucosa through various afferent and efferent autonomic pathways. Gastrointestinal wall connects with CNS through enteric, spinal and vagal efferent pathways. Limbic system which includes Amygdala (AMG), hippocampus (HIPP), and hypothalamus (HYP): predominantly responsible for memory and emotional responses. Hypothalamic pituitary adrenal (HPA) axis which is a part of limbic system activates in response to emotional stress and releases corticotropin-releasing factor (CRF) from the hypothalamus. CRF further stimulates adrenocorticotropic hormone (ACTH) secretion from the pituitary gland, causing the secretion of cortisol (main Stress hormone) from the adrenal glands. This hormone affects brain functions. Brain through neural communication influences various intestinal cell targets. The Gut microbiota also influences these same cells. Gut microbiota interact locally with intestinal cells and enteric nervous system (ENS), it also connect with central nervous system (CNS) through neuroendocrine and metabolic pathways.[62]
Clair R. Martin et al states that Gut microbes communicate to the central nervous system through at least 3 parallel and interacting channels involving nervous, endocrine, and immune signaling mechanisms. Based on preclinical and clinical evidence from various studies, scholars have concluded that brain by affecting community structure and functions of gut microbiota can modulate regional gut motility, intestinal transit and secretion, and gut permeability, and potentially through the luminal secretion of hormones that directly modulate microbial gene expression.[63]
Research validates the important role of brain and mental health in digestion and metabolism. Mental health is closely linked with gastrointestinal health. Emotions like stress, anxiety, mood swings may trigger stomach problems and gastrointestinal disturbances affect mental health.[64] [65] Probiotic consumption also has been reported to reduce self-reported feelings of sadness and aggressive thoughts.[66] Study of Sudo et al supports that the hyypothalamic–pituitary–adrenal (HPA) reaction to stress is influenced greatly by gut microbiota.[67] [68] [69]Based on extensive preclinical evidence and clinical observations showing bidirectional signaling pathways of BGM axis, Mayer et al proposed a systems biological model of bidirectional BGM interactions, which revalidate the impact of mental health on gastrointestinal health and vice versa.[70]
Concept of ama
Causes of ama formation
Ama is unique concept of Ayurveda. It is the undigested and non-metabolized food material which remains inside the body and produces toxic effects. This section provides details regarding causative factors of ama formation. Improper quantity of food is considered as an important causative factor in formation of ama. Furthermore, if dietary guidelines are not followed, it leads to ama formation.
Quality of food like heavy to digest and food with properties like dry, cold, dehydrated, disliked by the consumer, constipation-causing, causing a burning sensation, unclean, incompatible, and/or consumed untimely leads to ama formation.
Taking food either in excess quantity or very little quantity is a type of "vishamashana" (a type of unhealthy dietary pattern). This leads to various ama disorders. [Cha.Sa.Chikitsa Sthana 15/236]
Mental factors like food intake while the mind being afflicted with passion/desires, anger, greed, infatuation, envy, bashfulness, grief, conceit, excitement, and fear are also the cause of formation of ama. Any unwholesome food, even if taken in right quantity also leads to ama formation. An individual who regularly consumes an incompatible diet, multiple heavy meals (in short intervals) and eats even before the previous meal is digested, results in a clinical state of indigestion characterized by the manifestation of toxic symptoms termed as "ama visha". Some scholars opine that ama originates from highly vitiated dosha itself by their conjugation; as visha (aflatoxins) develops in (stored up, edible) kodo millet (kodrava). [A.Hr. Sutra Sthana 13/26][6] In recent years many non-communicable and metabolic disorders like obesity, diabetes, and thyroid dysfunction are prevalent in society due to indulgence of above factors leading to ama formation which triggers enormous pathological conditions. Various causal factors should be avoided by an individual to maintain the status of agni to preserve health.
Nature of ama
The ama is also termed as "ama visha" (clinical state of indigestion characterized by manifestation of toxic symptoms) because of resemblance of manifested symptoms to that of poisoning. It is considered incurable because of its acute presentation and contradictory line of management.
Due to various etiological factors, deteriorated state of agni is unable to digest even the light food. [Cha.Sa.Chikitsa Sthana 15/43]. This afflicted agni forms an intermediate substance called ama, which turns sour (shukta) during fermentation and finally turns in poisonous substance. (ama visha) [Cha.Sa.Chikitsa Sthana 15/44]
The characteristic features of ama include heaviness, liquid state, various colors, unctuous, slimy, sticky, undigested, have fetid smell and causes continuous pain. It is considered as root cause of many diseases [Arundatta on A.Hr.Sutra Sthana 13/27].[6] This form of food will not be absorbed, gets associated with dosha leading to "saama dosha" (undigested food with vitiated dosha) condition.
Symptoms produced due to ama
Following are symptoms produced by ama in various body systems and comprise symptoms of dosha associated with ama. [A.H. Sutra Sthana 13/23-24][6]
Obstruction of body channels (srotorodha)
loss of strength (balabramsha)
heaviness of body (gaurava)
laziness (alasya)
impaired activity of vata dosha (anila mudhata)
indigestion (apakti)
excessive salivation (nishthivana)
constipation and accumulation of wastes (mala sanga)
lack of taste (aruchi)
lethargy (klama).
The dosha and dushya (dhatu and mala) which are in liaison with ama are designated as "saama" i.e. mixed with ama. The diseases originating from these are termed as "saama diseases".
Disorders of ama
Two types of disorders are caused by ama viz. visuchika (non infectious gastroenteritis) and alasaka (sluggish bowels). Visuchika is characterized by sudden vomiting, diarrhea and pricking pain in abdomen. A frail person having weak digestive power and aggravated kapha condition, even exerting pressure is not able to eliminate the undigested food out of the passage. This condition is called alasaka.
Assessment of ama
The assessment of ama state is primarily done on the basis of clinical features of ama described above.
Stool mixed with ama (saama mala) sinks into the water due to heaviness property of ama; whereas stool without ama (pakva or niraama mala) floats over the water; provided the stools consistency is not watery or not very compact and if not vitiated by cold (sheeta) property of kapha. [Cha.Sa.Chikitsa Sthana 15/94] Patient should first be evaluated for presence or absence of ama and then appropriately be treated with pachana etc. treatment. [Cha.Sa.Chikitsa Sthana 15/94-95]
Management principles of ama
Ama is the preliminary cause for many disorders; hence the term 'aamaya' (means indigestion) is enlisted as the synonym of disease. [Chakrapani on Cha.Sa.Nidana Sthana 1/15] Physician should assess the status of agni and severity of ama before starting any treatment or therapeutic procedure. Treatment in 'saama' (presence of ama in pathogenesis of disease) and 'niraama' (absence of ama in pathogenesis) conditions are totally different.
Contraindication of shodhana in ama associated state
Saama dosha, which are spread all over the body, which remain latent/dissolved in tissues (dhatu) and are not dislodged from their sites, should not be expelled out by eliminative (shodhana) therapy. It can lead to destruction of the substratum, similar to the extraction of juice from an unripe fruit. [Cha.Sa.Chikitsa Sthana 3/147-149] Therapeutic elimination procedures should commence once person is free from ama state.
Primary treatment measures
Langhana (measures of fasting and lightness by removing wastes) and pachana (digestive therapy) is the foremost treatment used to treat ama disorders. [Cha.Sa.Chikitsa Sthana 15/95] Fasting helps to digest ama and kindles digestive fire. Absolute fasting or liquid light food is advised considering state of ama. Agni is responsible for digestion of food; kindled digestion in absence of food will digest increased dosha or remnant of ama in the body. [A. Hr. Chikitsa Sthana 10/91][6]
When the digestion of food is completed, but yet the patient experiences fullness and heaviness of the stomach, medicines are to be given which bring about the breakdown of the remaining dosha and increase digestive process. After langhana and pachana therapies, patient should be advised to follow special dictum of dietary regimen starting from thin gruel (peyadi sansarjana krama) to ignite digestive process. Fasting reduces the aggravated dosha, kindles digestive power, restores appetite, and renders lightness to the body. Fasting should be performed to that extent which will not hamper the vitality or strength of an individual. The aim of all these measures is to regain the health which also depends on the physical, mental and spiritual well being. [Cha.Sa.Chikitsa Sthana 3/140-142]
Secondary treatment (in niraama state)
When patient is relieved from excessive morbidity of ama; the dosha are free from ama state (pakava avastha) and once digestive fire is kindled; external oil unction (abhyanga), internal unction (snehapana), corrective and unctuous enema (asthapana and anuvasana types of basti) should be administered.
Emesis treatment
Due to impairment of agni, the ingested food will not be digested properly and this undigested food material is termed as ama anna. This ama, which is inert (alasaka), is to be expelled out by means of emesis with use of lukewarm saline water. If it is not achieved properly, use of strong emetics like Madanphala (randia dumetorum)), Pippali (Piper longum), Nagadanti (Croton oblongifolius Roxb) and paste of Siddharthaka (Brassica campestris Linn.) is advised. [A.S. Sutra Sthana 11/17]
Anal suppositories
After emesis, anal suppository plays significant role to expel the feces and flatus and to restore the downward movement of apana vayu. Swedana (sudation therapy) is effective to remove obstruction and to pacify vata dosha.
Stimulation of digestion
After complete elimination of food toxins, to breakdown the remaining dosha and to ignite the digestive power, Hingvadi powder (compound formulation of herbs) and Mustadi decoction is effective. [A.S.Sutra Sthana 11/20-21]
Treatment of abdominal pain due to ama
A paste prepared from barley powder and yavakshar (alkali prepared from the ashes of burnt green barley-corns) mixed with butter milk is very effective to cure abdominal pain caused due to indigestion.
In severe cases of visuchika (non infectious gastroenteritis), cauterization on the heels is recommended. [A.S. Sutra Sthana 11/26]
Clinical assessment of complete digestion
The following features are observed after complete digestion and are applied for assessment for complete digestion.
Clear belching (udgar shuddhi)
Enthusiasm (utsaha)
Timely evacuation of feces and urine (vegotsarga)
Lightness of body (laghuta)
Natural feeling of hunger and thirst (kshut pipaasa)
This assessment is essential to know while treating indigestion. [A.S.Sutra Sthana 11/58]
Prevention of ama formation
The dietary guidelines (ahara vidhi) shall be strictly followed to prevent formation of ama. Taking food twice only in day is important measure to prevent formation of ama. Ayurveda prohibits the ingestion of food during night time. Hence, during day two meal times are suggested for health preservation. The ideal times are when the person feels hungry in the morning and evening before sunset. [Indu on A.S.Sutra Sthana 11/54] Bhavamishra advises to take food after three hours of sunrise for proper digestion suggest avoiding food past afternoon. The second meal can be taken before sunset. [B.P.Prathama Khanda 4/115-116] It is advisable to consume that quantity of food which will be digested within twelve hours, without disturbing daily physical activities. Many efforts have been taken in biomedical science to unlock the complex mechanism underling this appetite science.
Contemporary views and research updates on ama
Ama formation in mouth
Digestion of food starts in mouth. If person is not following dietary guidelines codes, eating hurriedly without proper mastication, disturbed mental health while taking food will affect the first cephalic phase of digestion. It will lead to ama formation due to improper digestion process in mouth. Mastication of food is subjected to condition of teeth. Studies have attempted to find a correlation between tooth loss and nutrition. Deteriorated dental health affects mechanical digestion process and leads to nutritional deficiency.[71] Another study observed that modifying the mastication rate alters the glycemic index of rice. Its glycemic index classification shows impact of digestion process on the final outcome of food.[72]
Ama formation in gut
Health of a person is essentially dependents on healthy gut. Mucosal integrity is more important for proper absorption of nutrient from villi. The intestines also play an essential role in protecting the body from harmful bacteria and toxins. If mucosal integrity is hampered it results into leaky gut syndrome. It affects the lining of intestinal mucosa leading to bacteria and other toxins to pass into the bloodstream. It also leads to the imbalance of gut microbiome.[73]
This gut leakage and dysbiosis leads to gut inflammation, also disrupt an immune homeostasis. It causes systemic immune activation, neurological disturbances and auto immune diseases. All these predisposing conditions cause ama formation which triggers many complex pathological conditions, act as route cause for many diseases.[74]
Ama formation at micro channels and cellular level
Formation of ama occurs at the level of tissues or cellular level due to impaired metabolism or due to free radical activity. Free radicals are highly reactive atoms or molecules which have one or more unpaired electrons. It always tries to have stability by giving its electron or by acquiring extra electron form adjacent molecules. After providing the electron adjacent molecule becomes unstable and acts as a free radical, a chain reaction sets in to damage many molecules. A higher concentration of free radicals causes damage to the cellular structure like DNA, protein, lipid, and other cell parts. It causes disturbance in homeostasis of body leading to disease condition.[75]
Ama and metabolic end products
Ama formation occurs due to the accumulation of toxic or intermediate product of metabolism in the body termed as mala. These intermediate products are formed due to defect in the metabolism of protein, carbohydrate or lipid. Excessive uric acid is formed due to improper metabolism of protein which is hazardous to body tissue and joint structure. Lactic acid, acetone and ketone bodies are formed due to improper metabolism of carbohydrate and fats. Lack of insulin activity defuncts carbohydrate metabolism and leads to formation of intermediate products in the body. These intermediate products act as ama and lead to many disease conditions.
Metabolic waste functions as ama: Tissue nutrients after metabolic process (dhatvagni) nourishes body tissues and part is formed as excretory product (mala). Accumulation of this metabolic waste beyond certain limits disrupts the dosha hemostasis, leads to formation of ama. Depending on the type of metabolic waste and predominance of dosha exhibits many diseases.
Research theses done (M.D./Ph.D.(Ayurveda) research works)
Badeka B.P.(1964 ) : Ama vivechana. Institute for Post Graduate Teaching & Research in Ayurveda, Gujarat Ayurved University, Jamnagar.
Singh A. K. (1986) : Ama Vivechana. National Institute of Ayurveda, Jaipur.
Ramesh Babu D (1989) : A critical study of Ama and its possible biological correlation with reference to the effect of Pancakola Kashaya in their management. Faculty of Ayurveda, I.M.S.,B.H.U., Varanasi.
Smart Rachana (1996) : A .Concept of Dhatugata Ama and principles of management. Institute for Post Graduate Teaching & Research in Ayurveda, Gujarat Ayurved University, Jamnagar.
Bishnupriya Mohanty( 2001): Concept of Manobhighatakara Bhavas on Ama Utpatti particular to Madhumeha (DM). Institute for Post Graduate Teaching & Research in Ayurveda, Gujarat Ayurved University, Jamnagar.
Gaurav sharma (2001) : Ama-Free radical-Amavaat. Institute for Post Graduate Teaching & Research in Ayurveda, Gujarat Ayurved University, Jamnagar.
Smita Choradiya(2002) : Aharvidhi vidhaan-Annavah and purishvah srotas-Tanmana bhunjit. Institute for Post Graduate Teaching & Research in Ayurveda, Gujarat Ayurved University, Jamnagar.
Anuradha Aggrawaal(2004) :Aharmatara atur bala. Institute for Post Graduate Teaching & Research in Ayurveda, Gujarat Ayurved University, Jamnagar.
Mihir Vaja(2005) : Trividhakukshiya viman-Amotpatti. Institute for Post Graduate Teaching & Research in Ayurveda, Gujarat Ayurved University, Jamnagar.
Manish Dhanani(2005) : Kale cha arabhate karma yat tat sadhyayati dhruvam in the context of Jatharagnimandya,Institute for Post Graduate Teaching & Research in Ayurveda, Gujarat Ayurved University, Jamnagar.
Rohit Dangayaych(2008) : Ahar in relation to Matra,desh,Kala and effect on health. Institute for Post Graduate Teaching & Research in Ayurveda, Gujarat Ayurved University, Jamnagar.
Sangita More(2009) : Bhashaj chatuskaw.s.r.to Agnideepan. Institute for Post Graduate Teaching & Research in Ayurveda, Gujarat Ayurved University, Jamnagar.
Kishor G.satani.(2011) : An applied study of interrelationship of jatharagni and dhatvagni in context to dhatuvriddhi. Institute for Post Graduate Teaching & Research in Ayurveda, Gujarat Ayurved University, Jamnagar .
Abbreviations
Related chapters
Send us your suggestions and feedback on this page.
References