Website guide
Jump to navigation
Jump to search
Guide to navigate Charak Samhita New Live Edition
The original Charak Samhita text is available in the Sanskrit language. Present online edition of Charak Samhita attempts to simplify reading and understanding with current updates. This article will help you to navigate through this ocean of knowledge of Ayurveda that reflects in the website logo. The preface for this edition can be read here. More information about background of this project can be read here.
Reading methodology
There is a specific method observed to read every compendium. The general structure is as follows:
Tantra (text) and its meaning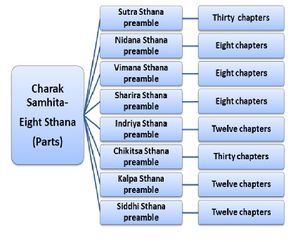 Image 1: Structure of Charak Samhita
Tantra means a doctrine of scientific work. Here Ayurveda is 'tantra' and Charak Samhita is the most referred text of Ayurveda.
Note: The blue words appearing in between the content (e.g. Ayurveda) on the website are linked to separate pages. More information can be read by clicking on the word.
Sthana (parts) and its meanings
"Sthana" means a collection of different chapters focused on the same subject. There are eight sthana (parts) in Charak Samhita.
You may read more about each part in its preamble below:
I. Sutra Sthana II. Nidana Sthana III. Vimana Sthana IV. Sharira Sthana
V. Indriya Sthana VI. Chikitsa Sthana VII. Kalpa Sthana VIII. Siddhi Sthana
Adhyaya (chapter) and its meanings
Adhyaya means a chapter with verses on a single topic. The verses are interlinked together. Hence, they need to be read together to derive contextual meaning and understand better. There are one hundred and twenty chapters in Charak Samhita.
The complete list of all chapters is available here. The chapter can be read after clicking on its name.
In the present edition, each chapter is designed as per a standard research article format. The following sections are included in it.
Abstract and keywords
This section gives an idea of the overall content of the chapter.
Introduction
This section of the chapter describes the context and brief background of the chapter.
The original Sanskrit text in Devanagari, followed by diacritical marks and phonetics
This section has the original Sanskrit text of Charak Samhita. The readers who are able to read Devanagari script, they can read the original verse. The readers who can't read Devanagari, they can click on expand link beside verses and read verses with diacritical marks and phonetics.
The English translation
It is given for each verse or a group of verses having a similar context. The relevant meanings of technical Sanskrit terms are given in bracket. Each important concept has a separate page. The word appearing in blue color have separate links to their respective pages. This work is in progress.
This section lists the fundamental concepts described in the chapter.
Vidhi Vimarsha (Clinical applications and current aspects)
This section elaborates on the contemporary approach towards the fundamental principles with updated evidence. This work is in progress in some chapters.
This section is being developed with updated monograph style articles on important concepts and practices of Ayurveda. All articles are part of vidhi vimarsha and are linked to main text of chapters of Charak Samhita. The updated list of articles is available here
References
A list of references and further reading is given in this section.
Search option
In the search window, you can seek information on a particular topic of your interest within the scope of Charak Samhita by typing it in English.
In the advanced search option, it can be filtered further according to section, chapter, media file, etc.
Value additions
The current updates on the age-old knowledge of Charak Samhita are being provided in Vidhi Vimarsha. You may read more about the value-added features and plans here.
How to see current updates?
Currently, we are creating special pages on important concepts of Ayurveda. We are planning to work on disease and case reports. You can track them on the link of recent changes on the left side of the media bar.
Team of contributors
This Charak Samhita New Edition project is being done by a group of healthcare professionals. You may read more about Charak Samhita Project here.
How to join the team of contributors?
If you think you are a good writer and contribute to this project, you can join us through your valuable contributions. Kindly read the guidelines to join us here.
There are two ways to join our team of contributors.
You may request an account for editing and attach your brief biography here
Send us an email with your brief biography on carakasamhita@gmail.com.
How to review?
As the improvement and update are continuous processes for any science, you may review and comment on the content of the website or chapter. Your expert comment as the reviewer can be submitted online on the link reviewer feedback. Other queries and suggestions can be submitted on the link of feedback. You may also email your suggestions on carakasamhita@gmail.com.
How to submit case reports and research summary?
Case reports, case studies, and case series are important for substantiating clinical knowledge with evidence and experience. You can submit case reports or a summary of research done by you with the original link of reference here.
Cite your research in this edition
If you have published substantial research on any topic of Charak Samhita, and you think it can be cited in this edition, then send a summary (of 200 words) with all bibliographic details in single MS word file to carakasamhita@gmail.com. It can also be submitted online to the link of feedback. We will cite the same at relevant place after review and editing.
How to submit suggestions?
This is a live edition of Charak Samhita and improvement is an ongoing process. Your feedback and suggestions are important to us for improvement in the website content. You can submit them here.
How to discuss a topic online?
No login is required to discuss a topic of your interest within the scope of Ayurveda. You may use the discussion link on the right side of 'page', add a topic, and start a discussion. Our team will help you if required.