Khuddakachatushpada Adhyaya
Jump to navigation
Jump to search

Sutra Sthana Chapter 9.The four fundamental components of Healthcare
Khuddakachatushpada Adhyaya

| | |
| --- | --- |
| Section/Chapter | Sutra Sthana Chapter 9 |
| Tetrad/Sub-section | Nirdesha Chatushka |
| Preceding Chapter | Indriyopakramaniya Adhyaya |
| Succeeding Chapter | Mahachatushpada Adhyaya |
| Other Sections | Nidana Sthana, Vimana Sthana, Sharira Sthana, Indriya Sthana, Chikitsa Sthana, Kalpa Sthana, Siddhi Sthana |
| Translator and commentator | Tomar G.S., Kumar N. |
| Reviewer | Gujarathi R., Godatwar P. |
| Editors | Dixit U., Deole Y.S., Basisht G. |
| Year of publication | 2020 |
| Publisher | Charak Samhita Research, Training and Skill Development Centre |
| DOI | 10.47468/CSNE.2020.e01.s01.011 |
Abstract
After completing the Swastha chatushka(tetrad on health), the components of Healthcare Management are described in Nirdesh Chatushka (tetrad on guidelines of healthcare management). The present chapter deals with four components necessary for providing optimum quality healthcare. These components are: Physician, Medicine, Attendant and the Patient. Further, standard qualities of these components are described. Definitions of disorder, health, treatment etc, along with different types of physicians are also elaborated in relation with the healthcare management.
Keywords: Healthcare management, qualities of physician, patient, medicine, care taker/nurse, royal physician, vaidya, quacks, attitude towards patient, good clinical practice.
Introduction
As the name suggests, the chapter deals with the four minor but equally important components of healthcare management.(Khud, or minor/short, Chatu , or four, and Pada, or components/parts].By using the term Chatushpada i.e. four equivalent components, it is indicated that contribution from all four factors is equally important for successful management of health and disease, although the physician plays the most important role. Incorporating the best qualities of each component (i.e., Physician, patient, medicine and care-taking attendant) assures success in treatment. If any of these components does not play its role properly, then it may lead to inadequate management of diseases. This chapter describes the qualities expected in an ideal physician, as well as his/her roles and responsibilities required to fulfill the job as a medical practitioner. Ayurveda provides for a holistic healthcare management framework, addressing all key aspects of management. This is evident in the fact that the role of patients is also factored in medical management and a patient is also expected to have certain qualities for good outcome of treatment. It is observed that happiness, optimism and satisfaction of patient enhances the chances of cure in any hospital. There is a synergistic relationship between the healthcare provider and the beneficiary. But the role of the physician and the attendant in providing compassionate service to the patient is critical to the treatment process.
The physician is the keystone in the healthcare ecosystem because of his specific knowledge, alertness to attend patients, and administrative capabilities. For example, a potter's role in making pots is critical, and not that of soil, stick, wheel, thread etc.The qualities of a royal physician, a life saviour, and a quack are also described in the chapter. The ideal attitude of a good physician in treating a patient and important aspects about good clinical practice are described.
Sanskrit text, Transliteration and English Translation
अथातः खुड्डाकचतुष्पादमध्यायं व्याख्यास्यामः||१||
इति ह स्माह भगवानात्रेयः||२||
athātaḥ khuḍḍākacatuṣpādamadhyāyaṁ vyākhyāsyāmaḥ||1||
iti ha smāha bhagavānātrēyaḥ||2||
athAtaH khuDDAkacatuShpAdamadhyAyaM vyAkhyAsyAmaH||1||
iti ha smAha bhagavAnAtreyaH||2||
Now we shall expound the chapter "Khuddakachatushpada" (Four fundamental components of healthcare). Thus said Lord Atreya.[1-2]
Four components of Healthcare
भिषग्द्रव्याण्युपस्थाता रोगी पादचतुष्टयम्| गुणवत् कारणं ज्ञेयं विकारव्युपशान्तये||३||
bhiṣagdravyāṇyupasthātā rōgī pādacatuṣṭayam| guṇavat kāraṇaṁ jñēyaṁ vikāravyupaśāntayē||3||
bhiShagdravyANyupasthAtA rogI pAdacatuShTayam| guNavat kAraNaM j~jeyaM vikAravyupashAntaye||3||
Physician, medicine, attendant (nursing staff) and the patient, these are four components which, all in their best of qualities are responsible for the complete cure of disease. [3]
Definitions of disease, health, happiness and unhappiness
विकारो धातुवैषम्यं, साम्यं प्रकृतिरुच्यते| सुखसञ्ज्ञकमारोग्यं, विकारो दुःखमेव च||४||
vikārō dhātuvaiṣamyaṁ, sāmyaṁ prakr̥tirucyatē| sukhasañjñakamārōgyaṁ, vikārō duḥkhamēva ca||4||
vikAro dhAtuvaiShamyaM, sAmyaM prakRutirucyate| sukhasa~jj~jakamArogyaM, vikAro duHkhameva ca||4||
Disequilibrium of dhatus is disease and their equilibrium is health. Health is termed as happiness, while disorder as unhappiness. [4]
Definition of chikitsa (therapeutics/management of disease)
चतुर्णां भिषगादीनां शस्तानां धातुवैकृते| प्रवृत्तिर्धातुसाम्यार्था चिकित्सेत्यभिधीयते||५||
caturṇāṁ bhiṣagādīnāṁ śastānāṁ dhātuvaikr̥tē| pravr̥ttirdhātusāmyārthā cikitsētyabhidhīyatē||5||
caturNAM bhiShagAdInAM shastAnAM dhAtuvaikRute| pravRuttirdhAtusAmyArthA cikitsetyabhidhIyate||5||
Employment of all the excellent four – physician etc. – in case of disorder of dhatu with the objective of (re-establishing) their equilibrium is called "Therapeutics". [5]
Qualities of the best vaidya (knowledgeable physician)
श्रुते पर्यवदातत्वं बहुशो दृष्टकर्मता| दाक्ष्यं शौचमिति ज्ञेयं वैद्ये गुणचतुष्टयम्||६||
śrutē paryavadātatvaṁ bahuśō dr̥ṣṭakarmatā| dākṣyaṁ śaucamiti jñēyaṁ vaidyē guṇacatuṣṭayam||6||
shrute paryavadAtatvaM bahusho dRuShTakarmatA| dAkShyaM shaucamiti j~jeyaM vaidye guNacatuShTayam||6||
A vaidya should possess the qualities such as proficiency in theoretical knowledge (that is learnt), extensive practical experience, dexterity and purity (of body and mind). [6]
Qualities of dravya (medicine)
बहुता तत्रयोग्यत्वमनेकविधकल्पना| सम्पच्चेति चतुष्कोऽयं द्रव्याणां गुण उच्यते||७||
bahutā tatrayōgyatvamanēkavidhakalpanā| sampaccēti catuṣkō'yaṁ dravyāṇāṁ guṇa ucyatē||7||
bahutA tatrayogyatvamanekavidhakalpanA| sampacceti catuShko~ayaM dravyANAM guNa ucyate||7||
Abundance (in availability), efficacy (with good pharmacological properties), various pharmaceutical forms and intact qualities of drugs – these are four qualities of the ideal medicine. [7]
Qualities of best attendant (caretaker/nursing staff)
उपचारज्ञता दाक्ष्यमनुरागश्च भर्तरि| शौचं चेति चतुष्कोऽयं गुणः परिचरे जने||८||
upacārajñatā dākṣyamanurāgaśca bhartari| śaucaṁ cēti catuṣkō'yaṁ guṇaḥ paricarē janē||8||
upacAraj~jatA dAkShyamanurAgashca bhartari| shaucaM ceti catuShko~ayaM guNaH paricare jane||8||
Knowledge of taking care of patient (nursing) as well as preparation, dispensing and administration of medicines and healthy recipes, dexterity, affectionate towards patient and purity of body and mind – these are four qualities of attendant. [8]
Qualities of best patient
स्मृतिर्निर्देशकारित्वमभीरुत्वमथापि च| ज्ञापकत्वं च रोगाणामातुरस्य गुणाः स्मृताः||९||
smr̥tirnirdēśakāritvamabhīrutvamathāpi ca| jñāpakatvaṁ ca rōgāṇāmāturasya guṇāḥ smr̥tāḥ||9||
smRutirnirdeshakAritvamabhIrutvamathApi ca| j~jApakatvaM ca rogANAmAturasya guNAH smRutAH||9||
Good memory (to remember treatment guidelines), obedience (to follow given instructions), fearlessness (courage to face adversities of disease) and ability to provide all information about the disease – these are the qualities of patient. [9]
Importance and role of physician
कारणं षोडशगुणं सिद्धौ पादचतुष्टयम्| विज्ञाता शासिता योक्ता प्रधानं भिषगत्र तु||१०||
kāraṇaṁ ṣōḍaśaguṇaṁ siddhau pādacatuṣṭayam| vijñātā śāsitā yōktā pradhānaṁ bhiṣagatra tu||10||
kAraNaM ShoDashaguNaM siddhau pAdacatuShTayam| vij~jAtA shAsitA yoktA pradhAnaM bhiShagatra tu||10||
These four components consist of sixteen qualities, if ideally administered, lead to a successful outcome. But here the physician is most important because of his specific knowledge, administrative capacity and managerial skills. [10]
पक्तौ हि कारणं पक्तुर्यथा पात्रेन्धनानलाः| विजेतुर्विजये भूमिश्चमूः प्रहरणानि च||११||
आतुराद्यास्तथा सिद्धौ पादाः कारणसञ्ज्ञिताः| वैद्यस्यातश्चिकित्सायां प्रधानं कारणं भिषक्||१२||
paktau hi kāraṇaṁ pakturyathā pātrēndhanānalāḥ| vijēturvijayē bhūmiścamūḥ praharaṇāni ca||11||
āturādyāstathā siddhau pādāḥ kāraṇasañjñitāḥ| vaidyasyātaścikitsāyāṁ pradhānaṁ kāraṇaṁ bhiṣak||12||
paktau hi kAraNaM pakturyathA pAtrendhanAnalAH| vijeturvijaye bhUmishcamUH praharaNAni ca||11||
AturAdyAstathA siddhau pAdAH kAraNasa~jj~jitAH| vaidyasyAtashcikitsAyAM pradhAnaM kAraNaM bhiShak||12||
As in cooking utensils, fuel and fire are complementary for the cook, the battlefield, soldiers and weapons are supporters to the conqueror, similarly for the healing capabilities of the physician, drugs, attendants and patients are the supporters. [11-12]
मृद्दण्डचक्रसूत्राद्याः कुम्भकारादृते यथा| नावहन्ति गुणं वैद्यादृते पादत्रयं तथा||१३||
mr̥ddaṇḍacakrasūtrādyāḥ kumbhakārādr̥tē yathā| nāvahanti guṇaṁ vaidyādr̥tē pādatrayaṁ tathā||13||
mRuddaNDacakrasUtrAdyAH kumbhakArAdRute yathA| nAvahanti guNaM vaidyAdRute pAdatrayaM tathA||13||
As the soil, stick, wheel, thread etc. do not serve the purpose (of making pot) without the potter, the other three components are in the same position without the physician. [13]
गन्धर्वपुरवन्नाशं यद्विकाराः सुदारुणाः| यान्ति यच्चेतरे वृद्धिमाशूपायप्रतीक्षिणः||१४||
सति पादत्रये ज्ञाज्ञौ भिषजावत्र कारणम्|१५|
gandharvapuravannāśaṁ yadvikārāḥ sudāruṇāḥ| yānti yaccētarē vr̥ddhimāśūpāyapratīkṣiṇaḥ||14||
sati pādatrayē jñājñau bhiṣajāvatra kāraṇam|15|
gandharvapuravannAshaM yadvikArAH sudAruNAH| yAnti yaccetare vRuddhimAshUpAyapratIkShiNaH||14||
sati pAdatraye j~jAj~jau bhiShajAvatra kAraNam|15|
Very severe disorders vanish like the (imaginary) city of gandharvas (magician) while even the simplest of disorders aggravated, in spite of the other three components of treatment i.e. drugs, nurse, patient (with all their qualities). Learned and ignorant physicians are responsible for the above two consequences respectively. [14-14½]
वरमात्मा हुतोऽज्ञेन न चिकित्सा प्रवर्तिता||१५||
पाणिचाराद्यथाऽचक्षुरज्ञानाद्भीतभीतवत्| नौर्मारुतवशेवाज्ञो भिषक् चरति कर्मसु||१६||
varamātmā hutō'jñēna na cikitsā pravartitā||15||
pāṇicārādyathā'cakṣurajñānādbhītabhītavat| naurmārutavaśēvājñō bhiṣak carati karmasu||16||
varamAtmA huto~aj~jena na cikitsA pravartitA||15||
pANicArAdyathA~acakShuraj~jAnAdbhItabhItavat| naurmArutavashevAj~jo bhiShak carati karmasu||16||
It is better to self-immolate than be treated by a quack, as a blind man moves groping with the help of the movement of his hand with fear, as a boat without sailors comes under the storm. The physician who has no knowledge of his area of medicine or science proceeds in the realm of therapeutic management with too much fear and lack of confidence.
Therefore never take treatment from an unknowledgeable physician. [15-16]
यदृच्छया समापन्नमुत्तार्य नियतायुषम्| भिषङ्मानी निहन्त्याशु शतान्यनियतायुषाम्||१७||
yadr̥cchayā samāpannamuttārya niyatāyuṣam| bhiṣaṅmānī nihantyāśu śatānyaniyatāyuṣām||17||
yadRucchayA samApannamuttArya niyatAyuSham| bhiSha~gmAnI nihantyAshu shatAnyaniyatAyuShAm||17||
Such a person regarding himself as a physician cures by chance a patient whose lifespan is certain (who was destined to survive) but kills hundreds having uncertain lifespan. [17]
Qualities of pranabhisara (life saviour) physician
तस्माच्छास्त्रेऽर्थविज्ञाने प्रवृत्तौ कर्मदर्शने| भिषक् चतुष्टये युक्तः प्राणाभिसर उच्यते||१८||
tasmācchāstrē'rthavijñānē pravr̥ttau karmadarśanē| bhiṣak catuṣṭayē yuktaḥ prāṇābhisara ucyatē||18||
tasmAcchAstre~arthavij~jAne pravRuttau karmadarshane| bhiShak catuShTaye yuktaH prANAbhisara ucyate||18||
Hence, a physician possessing four qualities - indulgence in scientific knowledge, clear understanding, right application, and practical experience - is known as the one who promotes life i.e. pranabhisara. [18]
Qualities of a royal physician
हेतौ लिङ्गे प्रशमने रोगाणामपुनर्भवे| ज्ञानं चतुर्विधं यस्य स राजार्हो भिषक्तमः||१९||
hētau liṅgē praśamanē rōgāṇāmapunarbhavē| jñānaṁ caturvidhaṁ yasya sa rājārhō bhiṣaktamaḥ||19||
hetau li~gge prashamane rogANAmapunarbhave| j~jAnaM caturvidhaM yasya sa rAjArho bhiShaktamaH||19||
The physician, who possesses knowledge of etiology, symptomatology, therapeutics and prevention of diseases, is the best among physicians and is fit for becoming a royal physician. [19]
Qualities of ideal vaidya
शस्त्रं शास्त्राणि सलिलं गुणदोषप्रवृत्तये| पात्रापेक्षीण्यतः प्रज्ञां चिकित्सार्थं विशोधयेत्||२०||
विद्या वितर्को विज्ञानं स्मृतिस्तत्परता क्रिया| यस्यैते षड्गुणास्तस्य न साध्यमतिवर्तते||२१||
विद्या मतिः कर्मदृष्टिरभ्यासः सिद्धिराश्रयः| वैद्यशब्दाभिनिष्पत्तावलमेकैकमप्यतः||२२||
यस्य त्वेते गुणाः सर्वे सन्ति विद्यादयः शुभाः| स वैद्यशब्दं सद्भूतमर्हन् प्राणिसुखप्रदः||२३||
śastraṁ śāstrāṇi salilaṁ guṇadōṣapravr̥ttayē| pātrāpēkṣīṇyataḥ prajñāṁ cikitsārthaṁ viśōdhayēt||20||
vidyā vitarkō vijñānaṁ smr̥tistatparatā kriyā| yasyaitē ṣaḍguṇāstasya na sādhyamativartatē||21||
vidyā matiḥ karmadr̥ṣṭirabhyāsaḥ siddhirāśrayaḥ| vaidyaśabdābhiniṣpattāvalamēkaikamapyataḥ||22||
yasya tvētē guṇāḥ sarvē santi vidyādayaḥ śubhāḥ| sa vaidyaśabdaṁ sadbhūtamarhan prāṇisukhapradaḥ||23||
shastraM shAstrANi salilaM guNadoShapravRuttaye| pAtrApekShINyataH praj~jAM cikitsArthaM vishodhayet||20||
vidyA vitarko vij~jAnaM smRutistatparatA kriyA| yasyaite ShaDguNAstasya na sAdhyamativartate||21||
vidyA matiH karmadRuShTirabhyAsaH siddhirAshrayaH| vaidyashabdAbhiniShpattAvalamekaikamapyataH||22||
yasya tvete guNAH sarve santi vidyAdayaH shubhAH| sa vaidyashabdaM sadbhUtamarhan prANisukhapradaH||23||
The merits (good effect) and demerits (bad effects) of weapons, scriptures and water depend on their user. So, physician should purify his intellect (to remove the lacunae) before treating.
Learning, rationality or capacity for innovative thinking, specific scientific knowledge, memory, devotion to performing timely duties and action (clinical practice) – one who possesses these six qualities, nothing remains unachievable for him. Learning, wisdom, practical knowledge, experience, accomplishments, and continual guidance from eminent mentors – of these, even one quality is sufficient to add significance to the degree of vaidya. The one, who possesses all the auspicious qualities like learning etc., deserves to hold the honourable degree of vaidya who showers happiness on all living beings. [20-23]
Importance of scientific studies
शास्त्रं ज्योतिः प्रकाशार्थं दर्शनं बुद्धिरात्मनः| ताभ्यां भिषक् सुयुक्ताभ्यां चिकित्सन्नापराध्यति||२४||
चिकित्सिते त्रयः पादा यस्माद्वैद्यव्यपाश्रयः| तस्मात् प्रयत्नमातिष्ठेद्भिषक् स्वगुणसम्पदि||२५||
śāstraṁ jyōtiḥ prakāśārthaṁ darśanaṁ buddhirātmanaḥ| tābhyāṁ bhiṣak suyuktābhyāṁ cikitsannāparādhyati||24||
cikitsitē trayaḥ pādā yasmādvaidyavyapāśrayaḥ| tasmāt prayatnamātiṣṭhēdbhiṣak svaguṇasampadi||25||
shAstraM jyotiH prakAshArthaM darshanaM buddhirAtmanaH| tAbhyAM bhiShak suyuktAbhyAM cikitsannAparAdhyati||24||
cikitsite trayaH pAdA yasmAdvaidyavyapAshrayaH| tasmAt prayatnamAtiShThedbhiShak svaguNasampadi||25||
Scientific scriptures provide light for illumination (to remove darkness of ignorance or to know things) and one's own intellect is like eyes. The physician who uses both (scientific knowledge and own intellect) properly, does not commit mistakes during treatment because in treatment, the other three components are dependent on the physician. Hence the physician should make all efforts to enrich his qualities. [24-25]
Ideal attitude of physician towards patients
मैत्री कारुण्यमार्तेषु शक्ये प्रीतिरुपेक्षणम्| प्रकृतिस्थेषु भूतेषु वैद्यवृत्तिश्चतुर्विधेति||२६||
maitrī kāruṇyamārtēṣu śakyē prītirupēkṣaṇam| prakr̥tisthēṣu bhūtēṣu vaidyavr̥ttiścaturvidhēti||26||
maitrI kAruNyamArteShu shakye prItirupekShaNam| prakRutistheShu bhUteShu vaidyavRuttishcaturvidheti||26||
Friendliness, compassion towards the diseased, attachment to the remediable and indifference to those who are moving towards the end (death) – this is the fourfold attitude of an ideal physician.[26]
Summary
तत्र श्लोकौ-
भिषग्जितं चतुष्पादं पादः पादश्चतुर्गुणः| भिषक् प्रधानं पादेभ्यो यस्माद्वैद्यस्तु यद्गुणः||२७||
ज्ञानानि बुद्धिर्ब्राह्मी च भिषजां या चतुर्विधा| सर्वमेतच्चतुष्पादे खुड्डाके सम्प्रकाशितमिति||२८||
tatra ślōkau-
bhiṣagjitaṁ catuṣpādaṁ pādaḥ pādaścaturguṇaḥ| bhiṣak pradhānaṁ pādēbhyō yasmādvaidyastu yadguṇaḥ||27||
jñānāni buddhirbrāhmī ca bhiṣajāṁ yā caturvidhā| sarvamētaccatuṣpādē khuḍḍākē samprakāśitamiti||28||
tatra shlokau-
bhiShagjitaM catuShpAdaM pAdaH pAdashcaturguNaH| bhiShak pradhAnaM pAdebhyo yasmAdvaidyastu yadguNaH||27||
j~jAnAni buddhirbrAhmI ca bhiShajAM yA caturvidhA| sarvametaccatuShpAde khuDDAke samprakAshitamiti||28||
Four components of therapeutics, four essential qualities of each component, the reason why the physician is the chief "component", the qualities of physician, the aspects of knowledge and fourfold attitude of the ideal physician – all this has been described in this chapter of four components of healthcare management. [27-28]
इत्यग्निवेशकृते तन्त्रे चरकप्रतिसंस्कृते श्लोकस्थाने खुड्डाकचतुष्पादो नाम नवमोऽध्यायः||९||
ityagnivēśakr̥tē tantrē carakapratisaṁskr̥tē ślōkasthānē khuḍḍākacatuṣpādō nāma navamō'dhyāyaḥ||9||
ityagniveshakRute tantre carakapratisaMskRute shlokasthAne khuDDAkacatuShpAdo nAmanavamo~adhyAyaH||9||
Thus ends the ninth chapter on small quadruple in Shlokasthana (i.e., Sutra Sthana) in the treatise composed by Agnivesha and redacted by Charak.
Tattva Vimarsha (Fundamental Principles)
Four components i.e. Physician, Medicine, Caretaker/nursing staff and patient are essential pillars for any healthcare system.[3]
Disease is a state of unhappiness due to disequilibrium of body elements. Health is a state of happiness due to equilibrium of these elements. [4]
The management by all four components leading to equilibrium of body elements is called "chikitsa".[5]
There are four qualities of an ideal vaidya (learned knowledgeable physician): Shrute paryavadatatvam (good listener, clear understanding and knowledge of science), bahusha drishtakarmata (maximum practical experience), dakshya ((dexterity, alertness and devotion towards duties), and shaucham (purity of body and mind, hygiene). [6]
The four qualities of ideal medicine include bahuta (easy and abundant in availability), yogyatwam (efficacy with good pharmacological properties), anekavidha kalpana (preparations in various pharmaceutical forms) and sampat (intact properties without getting affected by insects, moisture etc.) [7]
The four qualities of a nursing staff/caretaker of patients includes upacharadnyata (knowledge of taking care of patient (nursing) as well as preparation, dispensing, administration of medicines and healthy recipes), dakshyam (dexterity, alert to perform duties quickly), bhartari anuraga (affectionate towards patient like he/she is treating his/her brother) and shaucham (purity of body and mind and hygiene). [8]
The four qualities of a patient include smriti (good memory to remember treatment guidelines), nirdeshakaritwam (obedience to follow given instructions), abhirutwam (fearlessness or courage to handle complex procedures or face adversities of disease), and dnyapakatwam (ability to provide all information about the disease, giving proper history). [9]
The Ayurvedic physician should know the processing methods in pharmaceutics as the cook knows the recipes. He/she should be brave like a warrior to face adversities in disease management. As like a potter, the physician should think creatively and be innovative to manage disease with advances skills, newer techniques and new formulations. [11-12]
The physician without proper knowledge (quack) can destroy a patient's life. Therefore quacks should be strictly prohibited from clinical practice. [14-17]
The pranabhisara vaidya (life savior physician) should be updating his/her scientific knowledge continuously, possess clear understanding of Ayurvedic principles and practices (including the correct and timely application of drugs and procedures), and continuous practical experience. [18]
The aptitude for being royal physician includes knowledge of etiology, symptomatology, therapeutics and prevention of diseases. [19]
The physician should always try to remove lacunae and update his knowledge and wisdom to improve clinical practice. [20]
Continuous learning, rationality or capacity for innovative thinking, specific scientific knowledge, good memory, devotion to perform timely duties and action (clinical practice) are the attributes of a successful vaidya (knowledgeable, learned physician). [21]
For attaining the qualification of a vaidya, one of the following quality or skill is sufficient: Vidya (the desire to learn continuously), mati (pure prodigious intellect or wisdom acquired by scientific studies), karma drishti (practical knowledge), abhyasa (repeated practice or clinical experience), siddhi (ability to successfully manage most of diseases), and ashraya (residence with or continual guidance from eminent mentors). One who possesses all these six qualities gives immense happiness (freedom from disease) to all living beings.[22-23]
The behavior of a physician towards patients should be friendly and compassionate to share the unhappiness of disease. The wise physician should affectionately manage the curable disease and be neutral towards the patients tending towards natural death. One should know the limitation that he/she cannot extend the life of a patient in case of natural death. These are the four attitudes while dealing with the patients.[26]
Vidhi Vimarsha (Applied Inferences)
There are four components of healthcare system. (Chart 1: Four components of healthcare)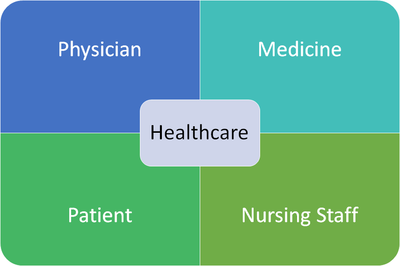 Of the four components of healthcare management, the role of the physician is of utmost importance because he/she is the person who is responsible for the planning of medicine, management of disease and the patient, and for all the instructions to the nursing staff. To establish a new healthcare facility, physicians should be appointed first. Then all necessary medicines (or ingredients required to formulate Ayurvedic preparations), including emergency medicines should be made available. Finally, able nursing staff should be appointed. If all these prerequisites are planned and provided for, then patients will come. Instead if one believes that physicians, medicines and nursing staff could be acquired once patients start coming, it would be wrong thinking.[3]
Disease and health
Dhatu is a collective term signifying all the constituents of a body that sustain its existence. Seven dhatu (rasa, rakta, mamsa, meda, asthi, majja and shukra), upadhatu like raja etc , three doshas (vata, pitta and kapha) and mala like pureesha etc. Perfect health is achieved when all the seven dhatu , three doshas, upadhatu, and mala function properly (i.e. are in equilibrium or harmony). Health is not mere the absence of disease. Certain diseases like tilakalaka (moles) do not cause any physical discomfort or pain, but they hurt the mind of that person. Therefore here it is specifically mentioned that vikara (disease) is termed as dukkha (unhappiness or source of unhappiness). Any disequilibrium of dhatu and dosha (according to the time of the day, stage of digestion etc.) that does not affect the happiness of a person cannot be considered a disorder. Establishment of equilibrium of dhatu is the objective of chikitsa. [4]
Therapeutics
The process of re-establishing the equilibrium of dhatu and dosha by a qualified physician is known as chikitsa (therapeutics). Thus a physician and his team work together towards curing the pathology and bringing back homeostasis of the dhatu and dosha. For example for treating kamala roga (jaundice), if virechana therapy is advised by the physician, if the potency of prescribed drugs is correct, if the nursing staff is trained to do the procedure, and if the patient is not afraid of the course of treatment prescribed, then an equilibrium of dosha and dhatu could be realized. [5]
Physician
Shruta (listening or being a listener) has been mentioned as the first and foremost quality of a physician, implying that it is critical for an aspiring practitioners to listen attentively to the teacher, and understanding the exact meaning of the topic being taught. In ancient India, knowledge passed down from generation to generation by oral tradition. Therefore this quality is specifically termed as shruta ( knowledge acquired by listening). Paryavadatatvam means divine knowledge acquired from authentic guru (mentors) and passed down from generation to generation in the purest form, without a shade of misunderstanding. Dakshyam means skillfulness or dexterity, ever-alertness and also sincerity. Shaucham indicates clarity and cleanliness of thoughts, mind and body to get or receive the maximum understanding of a subject. Today, the qualities of an ideal physician include possession of relevant knowledge, professionalism, strong credentials, good reputation, sincerity, empathy, responsiveness, humility, strong communication skills, timeliness/punctuality, and thoroughness. All these qualities are addressed in Shrute paryavadatatvam, bahusho drrushtakarmata, dakshyam and Shaucham. [6]
Medicines
Bahuta means that the drug should be available in abundance or wherever the patient needs it. Yogyatvam means drugs should have adequate potency to cure diseases. Also it should be appropriate for the patient. Anekavidhakalpana means a single drug could be prepared in different forms, such as decoctions, tablets, medically fermented preparations, etc. This is necessary because certain formulations of a good drug may not be suitable for certain diseases or conditions of diseases or for certain patients. If a drug can be used in multiple formulations, then it gets wide applicability. Various available forms might be palatable to the patients as per their need in today's era. Sampat means intact qualities of drugs i.e. drugs should not lose the potency due to time factor or contamination, adulteration or affected by insects or moisture etc. [7]
Nursing staff/ attendant/caretaker
Among the qualities of nursing staff, Upacharajnata means knowledge of preparing different forms of medicine, healthy recipes, dispensing, administration of various purification procedures etc. The staff should be skilled to handle a situation, compassionate towards the patient, possess hygiene, and should be able to understand the prescription of the physician. In modern era, an ideal attendant (nurse) should possess the relevant knowledge , skills and credentials required for nursing, with excellent communication skills, empathy for patients and their families, flexible working, attentiveness, responsiveness, and problem-solving skills. These characteristics have been examined further in the fifteenth chapter of the Sutra Sthana, titled Upakalpaniya Adhyaya. [8]
Patient
The patient should follow the instructions of the doctor, be intelligent enough to understand his disease, and should be able to express his condition openly with the physician. Smriti (memory) is an important character of the patient for him/her to explain the course of disease. Nirdeshakaritvam (ability to follow instructions) is also an important characteristic, because some drug must be taken at specific time. If the patient does not follow the physician's instructions, adverse reactions may occur and desired effects cannot be obtained. Rogaṇam jnapakatvam (information about the disease) is important. If patient is unable to pinpoint the location of pain or other symptoms properly, then diagnosis of disease would be difficult or not accurate. He should openly convey all the details about his ailment to the physician. If he does not do this, the physician may not be able to properly decide the line of treatment. He should not have fear. He should trust his physician and be ready to undergo any treatment prescribed. If he is scared and not ready for surgery or Panchakarma, for instance, it will be difficult for the physician to manage as there may not be a suitable alternative always. Depression and anxiety in patients are the foremost factors that worsen disease conditions. [Cha.Sa.Sutra Sthana 25/40] [9]
Good clinical practice
Research has shown that patients who feel that their physician has made a genuine empathetic connection - an attempt to understand how they feel and how their condition is affecting their everyday life - will actually experience a reduction in pain. A vaidya should be a friend of the whole society. The society can be divided into apparently healthy persons and the ailing community and the vaidya should have compassion towards the ailing. The patients can be divided into curable and incurable. The vaidya should devote himself to the curable. For the patients who are incurable, he/she should have the approach of upeksha which means to observe or monitor closely. Many of these patients may not respond to the treatment and approach death (terminal patients). He/she should have a sense of detachment towards such patients. If the vaidya is too attached to the patient, he is likely not going to pay proper attention to the patients who are curable , and may neglect them as a result.
Similar four-fold approach can be found in various other Indic philosophies as well. For instance, the Vedanta Darshana, Baudha Darshana and Patanjal Yoga Sutra also describe such a four-fold approach. It is the uniqueness and strength of Ayurveda, however, that this philosophical aspect has been presented and supported with practical applications. [26]
Further reading
Kushwahavd. Harish Chandra Singh. 2011. The Caraka Samhita. Reprint edition. Varanasi. Chaukhambha Orientalia.
Sharma. P. 2011. Caraka Samhita. Reprint edition. Varanasi. Chaukhambha Orientalia.
Shastri. A, Shastri. R. 2008. Mishrakvarga. Bhaisajya ratnavali. 19th edition. Varanasi. Chaukhambha Prakashan.
Shastri. K., Chaturvedi. G. 2003. Carakasamhita. Reprint edition. Varanasi. Chaukhambha Bharti Academy.
Sharma. A. 2001. Susrut Samhita. 1st edition. Varanasi. Chaukhambha Surbharti Prakashan.
Gupta. Atridev. Upadhyay Y. 2007. AstangHrdya. Reprint edition. Varanasi. Chaukhambha Prakashan.